2014 Porsche 911 GT3 - US Price $130,400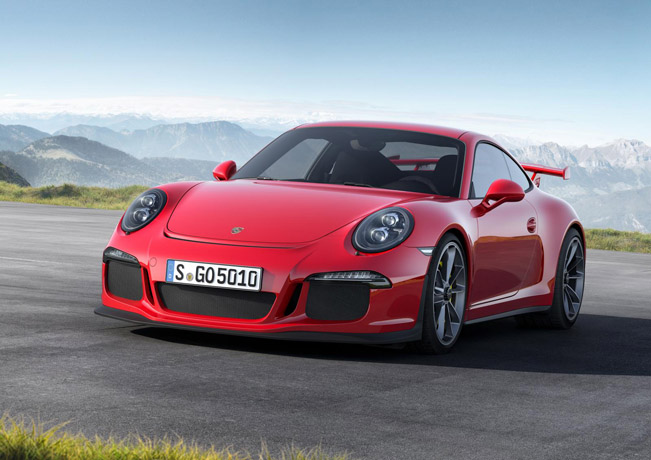 Porsche has announced the pricing of the new high-performance 911 GT3 model for the US. The sports car made its official debut at the 2013 New York Auto Show. The starting price is $130,400 without destination charge. Still, it is a lot less than the EU price without changing the currency.
It is powered by the famous 3.8 liter flat-six with 475HP (349 kW) and 438Nm (324 lb-ft) of torque. The engine is connected to a 7-speed DCT gearbox sending the power to the rear wheels. The LSD (limited-slip differential) takes care about the traction, so 0-100 km/h is in 3.5 seconds and a top speed is 315 km/h (195 mph).
All other components, such as the crankshaft, valve gear and Porsche-designed titanium connecting rods and forged pistons, were adapted or designed for the GT3. In addition, the 911 GT3 is 1.7 inches wider than the 911 Carrera S in the rear. Another distinctive feature is the large fixed rear wing, which contributes to the exemplary aerodynamics.
The highlights include a more aggressive front bumper, bigger rear fenders, widened side skirts, fixed rear wing and a new rear bumper. The 911 GT3 rolls 20" forged alloys with central locking fitted with performance tires. Last, but not least is the center-mounted dual sports exhaust system with sensational sound. As an option, Porsche offer LED headlights.
The 2014 Porsche 911 GT3 will hit the US market in the end of this year.
Source: Porsche