2014 Porsche 911 GT3 - Price €137,303 [video]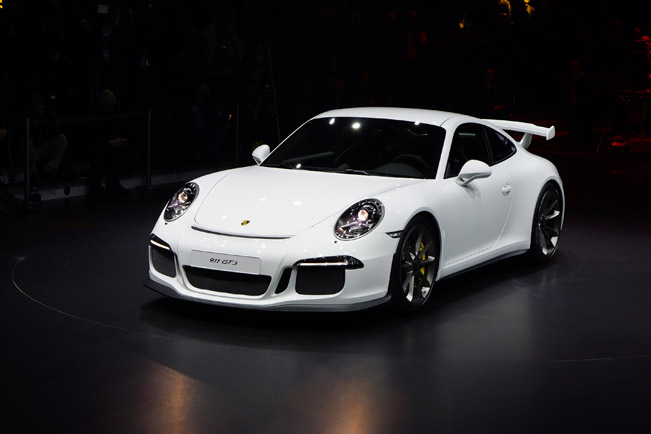 Porsche has released an interesting video of the new 2014 911 GT3 model in Youtube.
The sports car made its official debut at the 83rd Geneva Motor Show, last week. Some of the highlights include tended side skirts, different rear bumper, optional LED headlights, a fixed rear wing and bigger spoilers. The 911 GT3 rolls 20" forged alloy wheels fitted with performance tires. Last, but not least, it comes with a center-mounted dual sports exhaust system.
2014 Porsche 911 GT3 is powered by a 3.8 liter flat-six with 475HP (349 kW) and 438Nm (324 lb-ft) of torque. It is connected to a dual-clutch 7-speed gearbox. 0-100 km/h in 3.5 seconds and a top speed of 315 km/h (195 mph).
One very nice innovation of the new GT3 is an active rear wheel steering system. It alloys steering in the same or opposite direction of the front wheels for achieving perfect traction and handling.
The interior boasts an Alcantara steering wheel, leather/Alcantara seats, as well as red contrasting stitching.
The price is a lot - €137,303 with first deliveries starting from August, this year.
Source: Porsche