2014 Roush Off-Road Ford F-150 SVT Raptor With Custom Graphics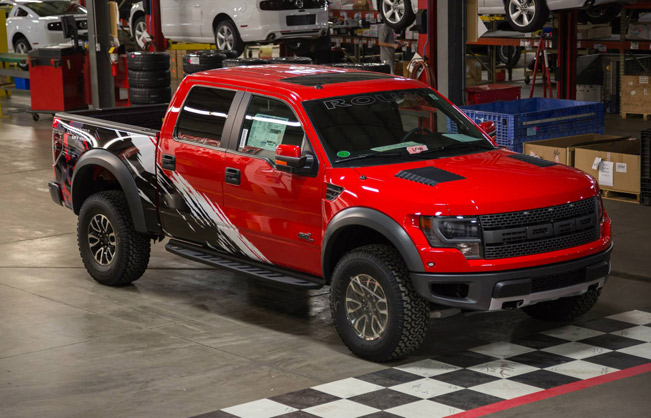 Thunderous rumble, kids cry, car alarms go off. Is it the end of days? Nope, more like a Roush Off-Road Ford F-150 SVT Raptor with custom graphics. It's good, it's bad, it's ugly. Go ahead, make our day...
Okay, so we got our Clint Eastwood movies mixed up but in our defence, those patterns on the paint job are very confusing. Where in the natural world do you find such red hues? Nowhere you say? Why go camo then? And why only one third of the vehicle? Don't get us wrong, we like the plain red bits; but the rest is just for show, and we here are all about efficiency.
And speaking of efficiency (or the lack of it), let;s take a minute and discuss the massive TVS-tech R2300 Supercharger that sits on top of the F-150's 6.2-liter V8. It's part of the Roush Phase 2 performance upgrade that also includes a big intercooler and high-flow fuel injectors. Add to that some engine calibration and you have yourself a 590 hp monstrosity that starts a fuel crisis every time you start it up.
Can't leave it at that. Roush engineers have also added a dual tip performance tuned, cat back exhaust system. It's all throaty and noisy and is made of stainless steel (the expensive type). The tips are chrome flashed which, apparently, is better than being chrome plated. Something about resistance to heat and durability. We are bad at physics.
This Raptor right here, is almost finished. All it's left are the approximately aggressive wheels and some LED lightning works.
Source: Roush