2015 Acura TLX GT Race Car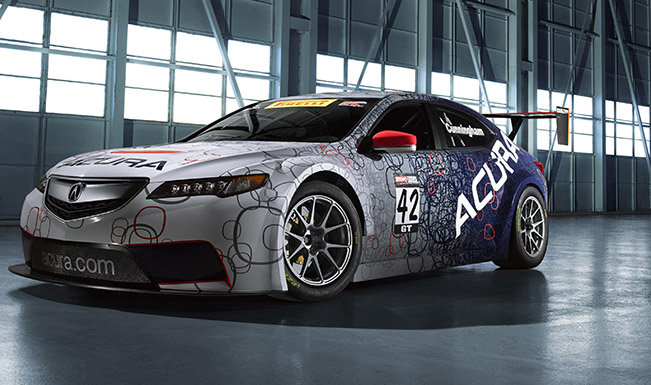 Acura Motorsports has unveiled the the new 2015 TLX GT Race Car, which will make its official debut at the Pirelli World Challenge competition on May 30th. It will face Audi R8 LMS, Cadillac CTS-V, Chevrolet Corvette, Dodge Viper, Lamborghini Gallardo, Mercedes SLS, Nissan GTR, Porsche 911 and Ferrari 458.
"The competition in the 2014 Pirelli World Challenge is incredible, but Acura has never shied away from strong competition, in the marketplace or on the race track," commented Art St. Cyr, President of Honda Performance Development and Vice President, Product Planning and Logistics, American Honda.
"The 2015 Acura TLX is a true luxury sport sedan, so it is fitting that the car be raced against several of its natural competitors, and even some up-market brands, in the Pirelli World Challenge.", he added.
The Acura TLX GT Race Car will feature HPD chassis and aerodynamic performance parts approved for Pirelli World Challenge competition, and will be powered by a direct-injected, twin-turbocharged V6 engine, developed by HPD from the normally aspirated, production TLX luxury sport sedan. It will utilize all-wheel drive, as found in Acura's SH-AWD system.
Source: Acura