2015 BMW 2 Series Active Tourer officially launched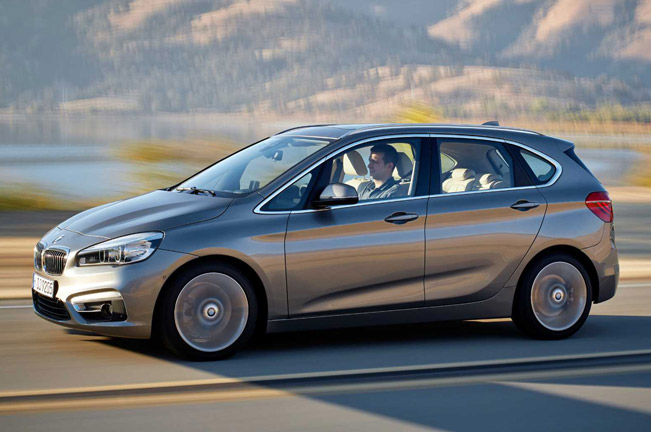 People looking for a vehicle that combines both mobility and style can now take a look at the all-new BMW 2 Series Active Tourer, freshly launched by the respected German auto maker. The new vehicle series offers users space, comfort, style, power and elegance and will surely be appreciated by customers who do not need a large car for every day needs yet they insist on having the BMW sign on their cars.
We will not waste time so we'll take you straight to the engines department as there is some interesting news – the BMW 2 Series Active Tourer is the first front-engine, front-wheel-drive layout vehicle sold under the BMW brand. Designed to compete directly with Mercedes-Benz B-Class vehicles, the BMW 2 Series Active Tourer comes with new turbocharged engines with three or four cylinders, BMW EfficientDynamics features and BMW ConnectedDrive technology. The total number of engines is three but they all come with transverse installation and BMW TwinPower Turbo Technology while at the same time they fully meet the latest EU6 emissions standard. There are two gasoline models installed in the BMW 218i Active Tourer and in the BMW 225i Active Tourer, and one diesel unit installed in the BMW 218d Active Tourer. The first gasoline engine comes with displacement of 1.5 liters and three cylinders that need 4.9-5.2 l/100 km (57.6-54.3 mpg UK) of fuel to deliver 100 kW (136 HP) of power under a six-speed gearbox. The BMW 225i comes with a more powerful 2.0-liter four-cylinder gasoline engine that delivers 170 kW (231 HP) of power with 5.8-6.0 l/100 km (48.7-47.1 mpg UK) of fuel consumption; this model comes with a standard eight-speed Steptronic gearbox. The four-cylinder diesel engine in the BMW 218d Active Tourer needs just 4.1-4.3 liters of fuel per 100 km (68.9-65.7 mpg UK) to deliver 110 kW (150 HP) of power to the wheels. This car has a standard six-speed transmission with an eight-speed gearbox available as an option.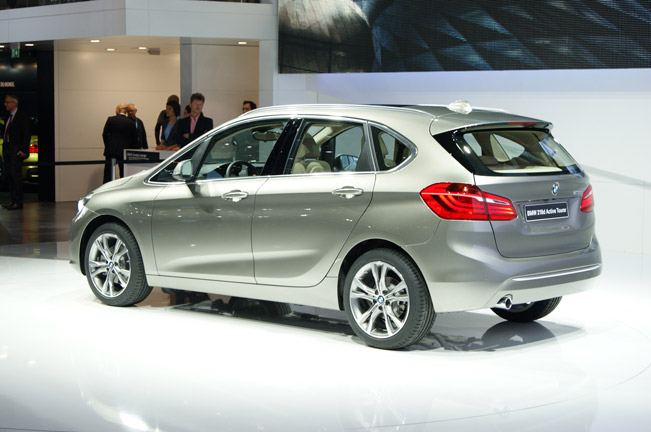 The BMW 2 Series Active Tourer has another feature worth noting – the cars in this series feature compact dimensions of 4342 x 1800 x 1555 mm (171 x 71 x 61 inches) but despite this they come with impressive internal levels of space. The driver and the front passenger enjoy a far higher seating position than in a sedan, which affords a commanding all-round view at the same time as making it easier to get in and out. The wealth of storage facilities and the option of a fold-flat passenger seat backrest are just two examples of the interior's impressive flexibility and cleverly devised layout. The cabin has a light and spacious feel to it, with all surfaces horizontally structured in a layered look. There is also the option of a large panoramic roof that lets light flood into the interior. Add a luggage compartment that can be enlarged from 468 to 1510 liters and you do have a really spacious vehicle.
People buying these cars will be treated with ultimate BMW quality on the inside that includes Radio Professional, including a hands-free telephone facility with a Bluetooth interface, the BMW iDrive control system with a controller on the centre console and a 6.5-inch Control Display, a rain sensor and automatic headlight activation, a sports leather steering wheel, the Intelligent Emergency Call system and the Collision Warning with City Braking function and more.
Later this year the BMW 2 Series Active Tourer will also be available in the M Sport specification. This version will come with special M Sport suspension, 17-inch or 18-inch M light-alloy wheels, an M-leather steering wheel and sports seats. The M version will be available in Germany on September 27, 2014 starting from EUR 27 200.
As to the other models there is no pricing information at the moment but given all the tech specs and the luxury that one will find inside, the new cars are not likely to be that cheap. Still you get what you pay for and this is also true for the BMW 2 Series Active Tourer.
Source: BMW