The BMW 2-Series Active Tourer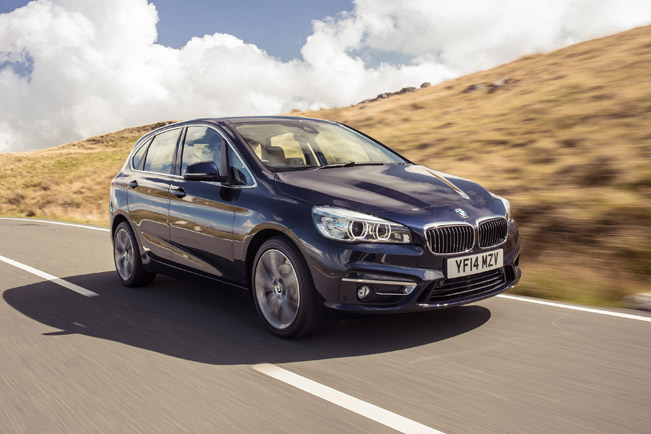 BMW is presenting the first front wheel drive car, the all new 2 series Active Tourer. The car measurements are about 4,342 mm long; 1,555 mm in height and 1,800 mm wide, it fits perfectly for city area usage. There are new lightweight turbocharged engines with three and four cylinders. The two models' specs are as follows (petrol and diesel):
For the BMW 218 i SE priced at £22,150 with 136 hp (101 kW), along with its 220 Nm(162 lb-ft) the ride accelerates from 0 to 62 mph for 9.3 seconds with top speed of 124 mph (199 kph). The car releases 115 CO2 emissions (g/km).
The BMW 218d SE model's price is £24,205. If we were to compare these two models, in my opinion, this one is the winner. The 150 hp (111 kW) with around 330 Nm (243 lb-ft) allows it to go form 0 to 62 mph for 8.9 seconds. The car's top speed is a little bit higher than the first model, right about 127 (204 kph) mph, with releasing 109 CO2 emissions (g/km).
Of course there are lots of options with which you can upgrade your ride.Which inevitable leads to spending pay extra cash, but at the end you would have your own uniquely designed exterior. There are four different styles you can choose from, like a sport line for instance. For example bi-LED front and rear headlights which are optional.There will be a choice of manual and automatic gearboxes for most of the engines.
This compact premium car is both luxurious and sporty at the same time. It has a really long wheel base and a high roof line, which all together provide a lot of space inside. Talking about lots of space, when I first saw this car I was amazed how spacious it was, along with its huge trunk. The rear seats can be slide forwards and backwards  to alter luggage space behind thus allowing more legroom as well. The doors open widely so it's easy to get inside.
What I enjoy about the interior is that is well design and functional its red stitching everywhere which gives the car a sporty look. The front and back seats provide a lot of headspace. A 6.5 inch big entertainment display, but very wide. In the middle of the backseats there is an armrest with a little compartment in its back and two cup holders which are able to fit in even big bottles. For a first time there is a full color head-up display which extends between the windscreeen and the steering wheel. This enables the driver the comfort of reading all the necessary safety information he needs without the need to divert their sight from the road.
Spacious, compact premium car The Active Tourer allows you to store up to the amazing 420 kg inside the car, which I must say is a lot.There is another  storage under the floor which can fit in about 70 litres. With its large tailgate and flat load floor, the boot can hold up to 486 litres. By folding all rear seats the space increases to 1,510 litres. However I dislike the cupholders placement which is really awkward.
Overall, this BMW is a great family car allowing lots of luggage to be stored. It combines the modern and luxury together with the comfort and style while driving safely on the road.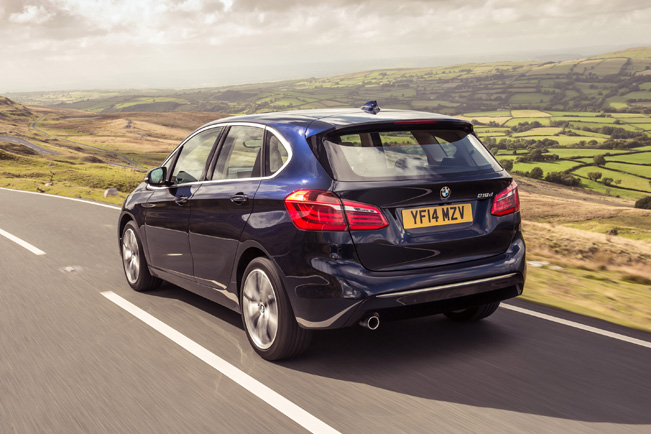 Source: BMW