2015 Dodge Challenger SRT Hellcat - 635WHP [video]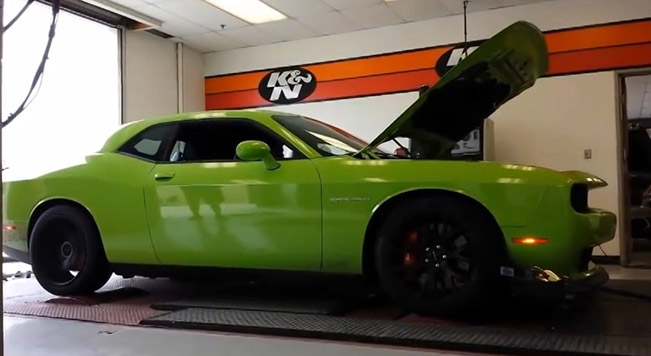 K&N Air Filters has published a video on Youtube showing the real power of the epic Dodge Challenger SRT Hellcat. The fastest and most powerful muscle car in the world has even more horsepower than officially stated. It has been put to dynotest by Motor Trend team and showed amazing 635WHP (467 kW) and 798Nm (591 lb-ft) at the rear wheels, which is 722HP (531 kW) and 914Nm (672 lb-ft) at the crankshaft.
This is "just" 15HP and 34Nm more than the officially stated figures of – 707HP (527 kW) and 880Nm (650 lb-ft) of torque produced by the mighty 6.2 liter supercharged V8 engine under the hood. What is more, the American car manufacturer has recently unveiled the Charger SRT Hellcat, which is the fastest saloon on the planet (non-tuned).
Other nice highlight is that the speedometer stopped at 202 mph (325 km/h), but the revcounter continued to build speed. If we pause the video, when the speedometer is at 202 mph, we can see that the engine is at 5,300RPM. The rev limiter is at 6,000RPM, so at 8 gear the car will be going theoretically with 229 mph (368 km/h).
Enjoy the video!
Source: KNFilter via Youtube