Dodge Challenger SRT Hellcat Achieves 22 mpg on the Highway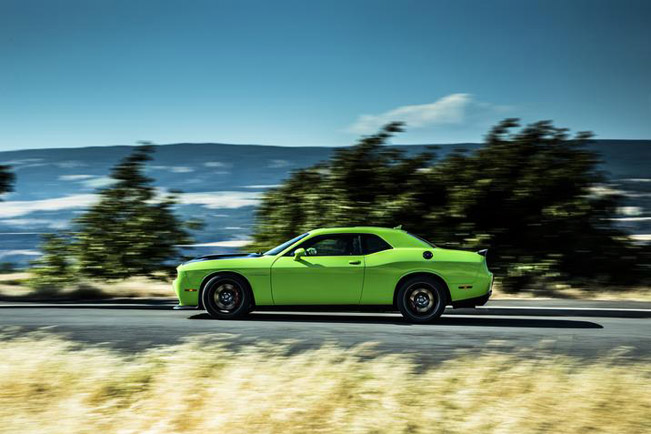 It is no secret that the 2015 Dodge Challenger SRT Hellcat is the most powerful muscle car ever built. This is due to its 6.2-liter supercharged HEMI Hellcat V-8 engine which produces 707 horsepower. In addition, the unit is mated to the TorqueFlite eight-speed automatic transmission, which contributes towards the result of 22 miles per gallon for the highway fuel-economy rating, estimated from the U.S. Environmental Protection Agency (EPA).
Considering the price, output and highway fuel-economy ratings of cars like the Aventador Roadster (700 hp), Aston Marton Vanquish (576 hp) and Mercedes SLS AMG GT (583 hp), Challenger SRT Hellcat carves a special place for itself in the lofty world of high-performance driving.
The unique Hellcat engine benefits from content that is 91 percent new. It is engineered in-house and is designed for optimum durability. It features forged-steel crankshaft which have induction-hardened bearing surfaces, thus offering a capacity to withstand firing pressures of 1,595 psi (110 bar).
The premium-grade, heat-treated aluminum-alloy cylinder heads were improved for thermal conductivity. These are topped by a twin-screw 2,380-cc/rev supercharger which includes integral charge coolers and an integrated electronic bypass to regulate boost pressure to a maximum of 80 kPa (11.6 psi).
Furthermore, there is a separate low-temperature cooling circuit with two air/coolant heat exchangers that is integrated into the supercharger housing and that keeps air temperatures below 140 degrees Fahrenheit (60 degrees Celsius). At the same time it enables air flow of up to 30,000 liters per minute.
Next, Dodge's TorqueFlite eight-speed automatic transmission has 30 percent greater maximum engine-torque capacity than any Chrysler eight-speed transmission. In addition, the  transmission features one additional pinion gear in each of the 1st and 3rd gear sets, and five more clutch-pack disks – two in clutch E and one each in clutches A, C and D. More importantly, what makes the gearbox so special is the 7.03 ratio spread. It enables the powerful HEMI Hellcat to operate in its most efficient mode.
When the Challenger SRT Hellcat is equipped with a six-speed manual transmission it achieves highway fuel-economy rating of 21 mpg. The sporty gearbox has an internal cooling pump and vehicle-mounted (external) oil cooler and its 258-mm heavy-duty clutch affords easy access to HEMI Hellcat's exhilarating power.
Source: Dodge