The 2015 Mercedes-Benz C-Class is Here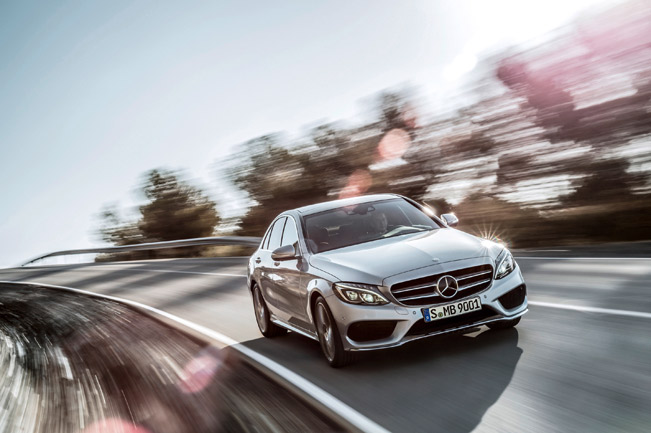 It's the new Mrecedes-Benz C-Class! You know, the one that's supposed to be compact and more common-man oriented. Well, this here is a yet another departure from that idea.
The latest C-Class is longer and wider than its predecessor by 95 mm and 40 mm respectively. That's 4686 mm in length from headlight to taillight and 1810 mm from side to side. The total increase in length is mainly due to the 80 mm longer wheelbase. That's why there's acres of leg-room inside for the rear passengers.
And while the dimensions go up, the overall weight goes down by as much as 100 kg. Extensive use of lightweight materials is to blame for that. Apparently, the use of aluminum, as compared to the older model structure, has gone up from 10 percent to 50 percent. The safety of the cabin has not really been sacrificed despite the diet. Besides, the chances of someone having a crash in it sounds seem to be pretty low. There's a host of standard and optional automated systems like Attention Assist, Adaptive Brake Assist, Collision Prevention Assist Plus (at up to speeds of 125 mph, it applies the brakes when there's an estimated danger on the road and no response from the driver). If that's not enough, there are also optional assists such as lane keeping, and another brake assist for even drowsier drivers we presume, and a follow-that-car mode with a Stop Go Pilot at speeds less than 37 mph.
Speaking of stopping and going, let's not neglect the elephant(s) in the room .The C-Class will be initially available with three engine choices – one diesel and two petrols. The former is a C 220 BlueTEC 2.2-liter plant with 170 hp and 400 Nm in its pocket. The two petrols (C 180 and C 200), on the other hand, are 1.6 and 2.0-liters respectively and develop 156 and 184 hp again respectively.
A number of factors weigh in on the exquisite economy of all engines. All models have Mercedes' ECO start/stop function, all are, as mentioned, significantly lighter than their forerunners, and all employ sophisticated technologies. The diesel boasts an economy of 70.6 mpg and 103 g/km of CO2 emissions partly due to a state-of-the-art common-rail direct injection setup, and a selective catalytic reduction system. The C 180 and C 220 are not bad either at 56.5 mpg and 53.3 mpg respectively.
Later in its life, the C-Class will also get a hybrid plant akin to the one found it the S and E-Classes – a C 300 BlueTEC HYBRID with a 204 + 27 hp diesel + electric motor that runs on 72.4 mpg. A plug-in hybrid is also to be expected
Depending on the installed output ratings, Mercedes-Benz is offering two new 6-speed stick versions. Then there's the 7G-TRONIC PLUS automatic gearboxes which will offer the latest in environmental-friendliness, responsiveness and driving pleasure.
This being a Mercedes-Benz, one should also expect a superior suspension system. A front independent suspension boast a four-link setup provides more grip and higher lateral stability. Essentially, the driver is rewarded with more feedback from the steering wheel and a sporty feel. At the back, the optimized multi-link independent suspension ensures unsurpassed wheel location qualities and supreme straight-line stability.
Three DIRECT CONTROL suspensions with selective damping system are available in conjunction with this suspension:
a comfort suspension
a lowered comfort suspension with a sportier character
a sports suspension lowered by 15 mm
Optionally, for the first time in a C-Class, you can opt for the Mercedes-Benz AIRMATIC air suspension which is highly customizable and has optimum ride comfort on its mind.
Inside, one of the focal points of the C-Class is the HUD display that can even offer directions. Another focal point is the central display at the main console. It's 7-inches diagonally or 8,4-inches if you go for the COMAND Online navigation option. From it you can access a plethora of software we haven't even heard of. Just to get an idea of the level of smartness though, consider this: when the navigation foresees an incoming tunnel (which it naturally does), it turns on the air-circulation setting on its own so that you don't inhale the sooty air that is usually present on such stretches.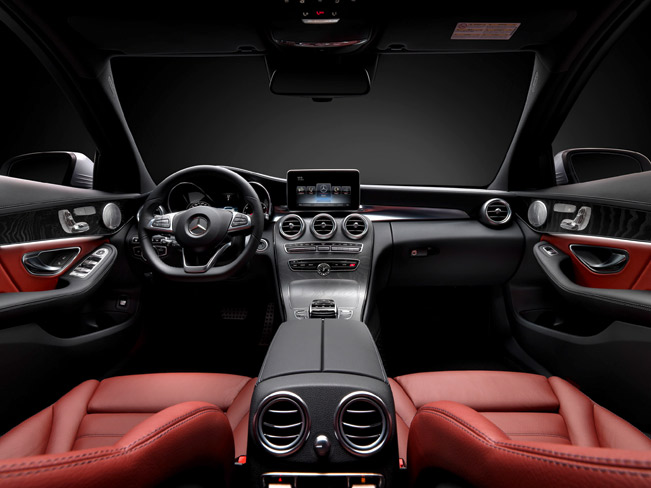 Source: Mercedes-Benz