Mercedes-Benz Teases 2015 C-Class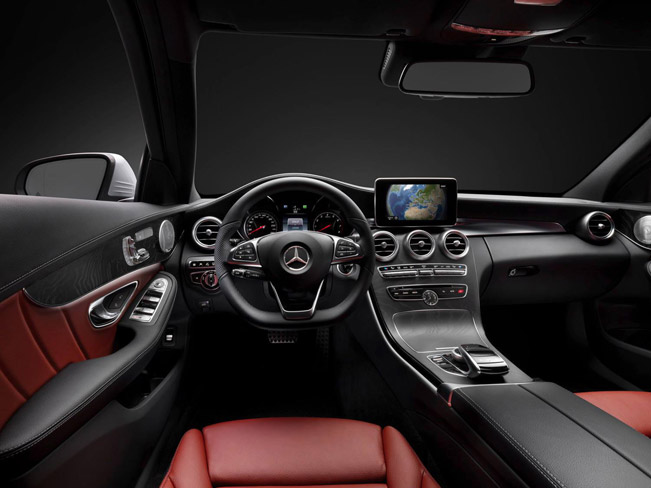 Mercedes-Benz has just released the official information around the interior of its upcoming 2015 Mercedes-Benz C-Class. The brand also teased the car with a video as well as some exclusive photos that were published on its official Facebook page.
The famous German company will write another chapter of success with the all-new C-Class. Its interior will not only include high-class luxury ambience, but also will be equipped with a touchpad and head-up display, extensive safety features, GPS-sensitive air conditioning. The car will also offer the lightest bodyshell in the segment and new agile and comfortable suspension.
Inside, the C-Class has a clear and sensual shapes covered with the highest of quality materials. One of the most outstanding new features is the completely redesigned centre console that now includes a free-standing central display.
Via the innovative touchpad included here can be operated all the head-unit functions. More information around the vehicle's performance and condition can be received via the head-up display, which appears to float over the bonnet, around two metres in front of the driver.
This system makes sure that the driver is not distracted from the road ahead and also provides information on speed, speed limits, navigation instructions and messages from DISTRONIC PLUS.
What is also important to mention is that the new C-Class will have an intelligent lightweight aluminium hybrid body construction and will offer excellent rigidity for superb driving handling coupled with optimum noise and vibration characteristics as well as high crash safety.
The result is around 100 kg less of the entire weight of the car when compared to its predecessor. This of course means less fuel consumption, CO2 emissions and enhanced aerodynamic credentials.
Previous model series / 2015 C-Class:
Aluminium (sheet metal and cast) 9% / 48%
Hot-formed steel parts 3% / 8%
Ultra-high-strength sheet steel 3% / 4%
Next, the suspension of the model is promised to be more agile and comfortable than ever. For example, a new four-link front axle provides the excellent axle kinematics. A standard steel suspension is also present. As available options, there are the DIRECT CONTROL suspensions as well as the air suspension (AIRMATIC) on the front and rear axles.
The new or refined safety features and assistance systems featured here are a sensor for the front passenger airbag, Mercedes-Benz Intelligent Drive and AIR-BALANCE package with active fragrancing and ionization.
A host of new unusual styling details can be found throughout the cockpit and passenger compartment. Mercedes-Benz designers have made an excellent choice of select, high-class materials as well as finely crafted details. As one can see from the photos, the coupe combines elegance and harmony with sensuality and dynamic sportiness.
Next to the new center console, one sees five air outlets with a central adjusting knob and horizontal louvre insert. They give the dashboard a sporty touch. Additionally, five ventilation outlets in silver shadow with their metallic cool-touch effect contrast with the wood in the centre console and the leather on the dashboard.
The steering wheel is decided in three-spoke leather variant with twelve buttons. Throughout the interior there are also surfaces with uniform styling and a minimal number of switches, which deliver a sense of space.
In terms of chassis and suspension, the newly designed four-link front axle plays a major part in the agile handling characteristics. Thanks to it, the front independent suspension is fully decoupled from the spring strut. This gives rise to more grip and greater cornering forces.
At the rear is utilized an optimised multi-link independent rear suspension with five-link concept. This in turn, ensures unsurpassed wheel location qualities and supreme straight-line stability.
The new C-Class is also fitted as standard with ATTENTION ASSIST, which can warn the driver of inattentiveness and drowsiness. In addition, what also will help them gain a better confidence is the COMAND system navigation function.
The optional assistance features which enhance comfort and safety are for instance the Stop&Go Pilot integrated in DISTRONIC PLUS with Steering Assist, BAS PLUS Brake Assist System, PRE-SAFE Brake System, improved Active Lane Keeping Assist, Active Parking Assist with 360° camera, Traffic Sign Assist and Adaptive Highbeam Assist Plus.
Source: Mercedes-Benz