2015 Volkswagen Passat - Officially Unveiled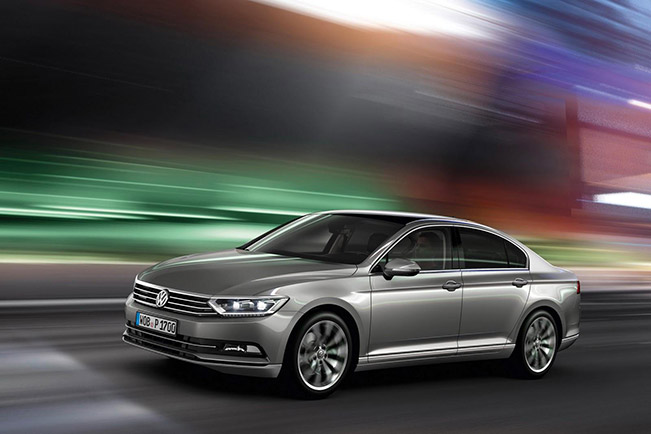 Volkswagen has finally revealed the all-new 2015 Passat B8 ready to go upmarket as the manufacturer says. The new Passat is described as being "the most successful European business car". We can't wait to see how it is going to compete versus the best-in-class saloons and estates – 3-Series, A4 and C-Class.
As we previously reported, the Passat B8 boasts a number of new technologies including an Active Info Display – 12.3" TFT screen, instead of the regular analog instruments. It boasts a lot of customizable features including navigation, range and fuel consumptions. There is also a head-up display featuring a separate glass panel installed within the top of the dashboard to project all the useful information within the line of sight of the driver.
The engine range includes a 2.0 liter TDI with several outputs – 150HP (110 kW); 190HP (140 kW) and the top-of-range – 240HP (176 kW). The smaller 1.6 liter TDI will have a 120HP (88 kW) version. The petrol range features a 1.4 liter TSI – 125HP (92 kW) and 150HP (110 kW) as well as a 1.8 liter TSI with 180HP (132 kW) and a mighty 2.0 liter TSI – 220HP (162 kW) or 280HP (206 kW) – taken from Seat Leon Cupra 280. Of course, there is a plug-in Hybrid model with a 1.4 liter TSI and an electric motor.
The new Passat is 4767mm long, 1832mm wide and 1456mm tall with a wheelbase of 2791mm. A combination of high-strength steel, hot-formed steel and aluminum is used to build a rigid body and chassis. Volkswagen's engineers were able save 85 kg (188 lbs), so the lightest model is measuring just 1,312 kg (2,892 lbs). This results in improved fuel economy and better performance.
Some of the safety and assistance systems are: Side Assist with Rear Traffic Alert, Traffic Jam Assist, City Emergency Braking, Trailer Assist, Emergency Assist and a revised 360-degree Area View function.
2015 Volkswagen Passat B8 will be available to order from 10th July with pricing starting from €25,875 for Saloon models and €25,950 for Estates.
Source: Volkswagen