2016 Buick Avista Concept: Beauty and Passion Unite

Ahead of its global debut at the North American International Auto Show, Buick introduced the Avista Concept. This is a 2+2 coupe with the idea to push brand's boundaries of design ideas, along with some performance tweaks.
The sleek and sweeping proportions serve as a foundation of the monstrous 400hp (294kW) twin-turbocharged V6 power unit and of the driver-oriented cabin that offers both functionality and comfort.
As you can see, Avista's elegant lines stretch from the front to rear, reminding of its sibling Avenir Concept and the 2017 LaCrosse model. What is also noticeable is the absence of B-pillars between the doors and rear side windows which somehow make further accent on the flowing profile.

Also, we notice that Buick design team went for a different approach with lights design. Now we see the idea of "illuminated halos" around lamp's edges, which suggests a three-dimensional shape and sculpture. Also, the front meets anyone with its restyled grille and the new winged tri-shield insignia set.
SEE ALSO: Buick Confirms North American Market Debut for Envision CUV
Interior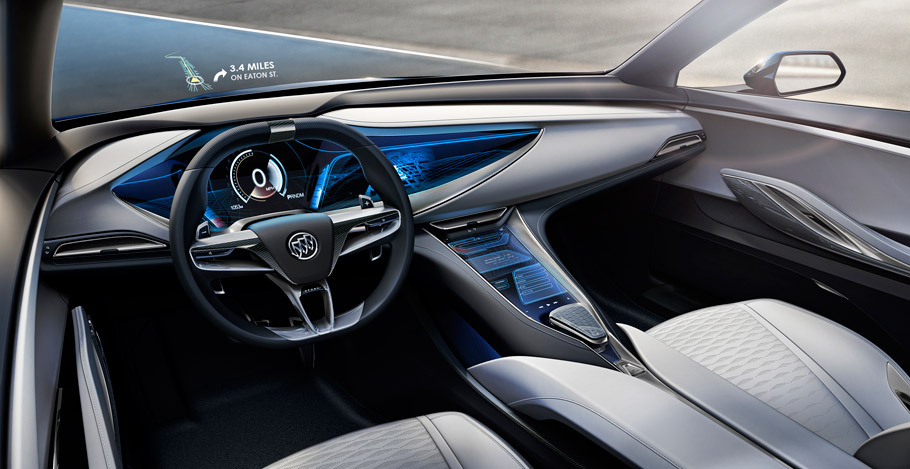 Just like the exterior looks, the cockpit is defined by flowing and elegant lines that together enhance the intense of the technical details. The central console incorporates touch screen controls and extends to the rear seating area. There are also exposed carbon fiber and aluminum accents that together enhance the driving experience, while the fading colors of the seats, console and doors really contribute to that feeling of coziness and comfort.
Also, Buick designers improved the driving experience with a next-generation QuietTuning and air-quality control systems that together make excellent job in isolating the cabin from exterior noises.
Drivetrain system
Avista embraces the legacy of turbocharged units and proudly presents the 3.0-liter V6 engine with fuel-saving Active Fuel Management (cylinder deactivation) and Stop/Start function. It is paired to an eight-speed automatic gearbox and delivers highest levels of efficiency and smoothness.

Source: Buick