2016 VW Amarok comes with refined interior and vast number of goodies

Volkswagen Commercial Vehicles has finally revealed some images of the Amarok. This latest and greatest model will aid drivers with tons of goodies: there is a special multi-function display, next-gen radio and navigation systems, 14-way adjustable ergoComfort seats and many, many more.
But of course, the interior features are not alone. Feeling comfortable both on the road and off it, the Amarok can tackle down any challenge, thanks to the 3.0-liter V6 TDI power unit, capable of producing 224hp (165kW) and 500Nm of torque. Its top speed is 193km/h (120mph) and accelerates from 0 to 100km/h (62mph) in 7.9 seconds.
But let's get back to the interior. The instrument panel has undergone some changes and now makes a difference: there are new striking features and also pleasurable visual changes. With some round and elegant lines, the vehicle's cabin appears to be bolder and cosier.

Furthermore, the multifunctional steering wheel also makes it easier for driver to operate the radio, mobile phone or the apps, appearing on the multifunctional display. The driving experience and convenience is further enhanced by the drivetrain upgrades: Amarok can be geared with optional paddle shifters and a 8-speed automatic gearbox. How cool is that?
SEE ALSO: Barely touched and barely driven 1974 Volkswagen Beetle seeks its new owner!
Also, the "Park Pilot" parking assist system, aided by a rearview camera also contributes to that easier life. Or at least to a easier parking. An air-conditioning system, Bluetooth connection and up to four 12-volt power supply sockets are also part of the standard equipment.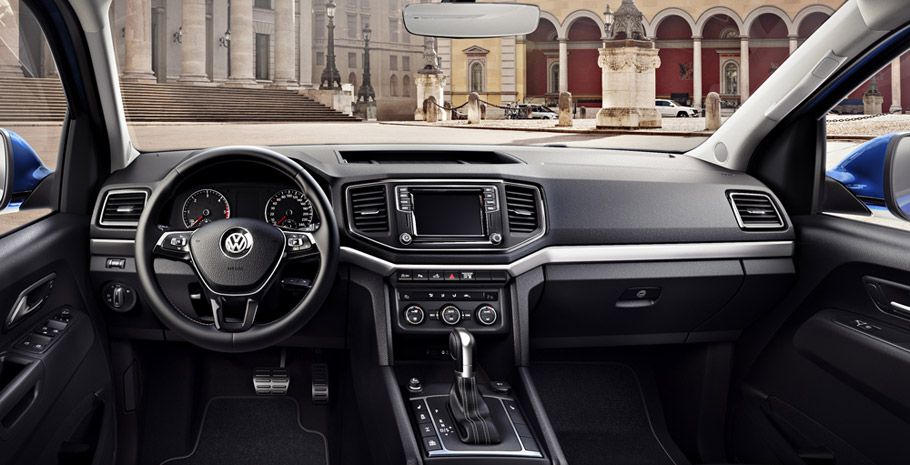 Prices for the new Amarok start from $37,790 USD.
Source: Volkswagen