Cobra Technology & Lifestyle Goodies For Your VW Amarok
Ever felt that your VW Amarok is not practical enough nor it is as impressive as you want it to be. Or maybe you are simply gearing up for a safari. Either way you shouldn't panic because Cobra Technology & Lifestyle are here to offer you a neat array of accessories which will give your pickup truck that extra something to complete the picture.
Let us start with the Aeroklas camper shell which is manufactured from high-grade ABS plastics. It is a perfect fit for the bed of the Amarok (it also comes with a certificate that makes individual technical inspections redundant) and basically what it does is to fend off the elements from the things you value the most. It is also very practical – easy to install, upward swing glass at the back for easy access, roof rails and a spoiler. The shell is leveled with the cabin to prevent any wind noises and provide maximum loading capacity. Usually these rigid tops come in silver or black but other colors are also available upon request.
Additionally, now you can install a Cobra Technology & Lifestyle stainless-steel front tube guard with a thickness diameter of 60 milometers. Because it has its own crumple zones all crash tests have resulted in a 100% positive green light (it too has a certificate of approval).
On the other hand you can go with the more subtle option of the Cobra CITYGUARD® which is a single stainless-steel tube that runs along the standard front bumper. This will give you just about enough character on the streets and you wont be afraid of minor collisions anymore.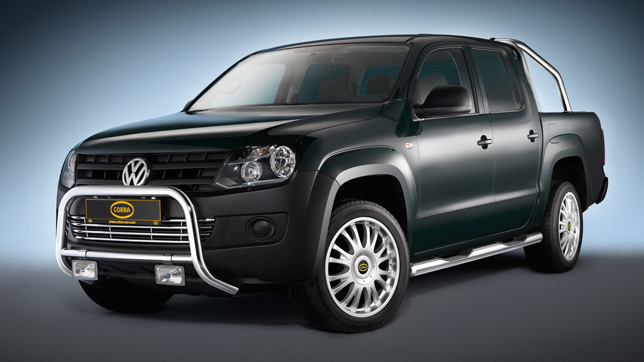 Cobra Volkswagen Amarok
The Cobra Technology & Lifestyle stainless-steel bumper grille complements whichever guard you might choose.
There is some protection for the sides as well. The rocker panels can be suited with special, company tailored rocker panel guards 80 millimeters thick each. Quite thoughtfully these guards come with steps right beneath the place where the doors should be for easy access. Alternatively, you might prefer the aluminum or stainless steel running boards option.
When the camper shell is not in use, it would be nice to have some sort of a roll bar to protect the cabin should the truck ends up upside down. From Cobra, the engineers have thought about that as well – Tubes with 60 millimeters of diameter  lends the German pickup not only more attractive looks but also offers additional options for securing cargo.
For an all round complete feel one must consider placing massive light-alloy wheels. Cobra offers  two types of alloys coming in three sizes the biggest of which is the one-piece, eight double-spoked COBRA N+ Sahara 10Jx20 with size 275/45 R 20 tires (TÜV tested)
Cobra Technology & Lifestyle are ready to offer you 2 full years of guarantee with no limit on the distance traveled. Now that is dedication!
Source: Cobra Technology