Volkswagen Amarok pickup concept
The new Volkswagen pickup, showcased as a concept last year and due to be launched in Europe in 2010, is to be called the Amarok.
The new name means 'wolf' in the language of the Inuit, one of the Eskimo people who live in northern Canada and Greenland who highly regard the wolf as king of the wilderness and a figure of robustness, endurance and superiority.   It translates into 'he loves stones' in the languages spoken in South America.
'This name fits the characteristics of our pickup perfectly, which will set new standards in its class,' says Stephan Schaller, CEO of Volkswagen Commercial Vehicles.  'We took great care selecting this name, which can be used globally and is meant to invoke positive associations in all relevant international markets.  The Amarok is a powerful and robust vehicle with great stamina – just like the wolf,' he continued.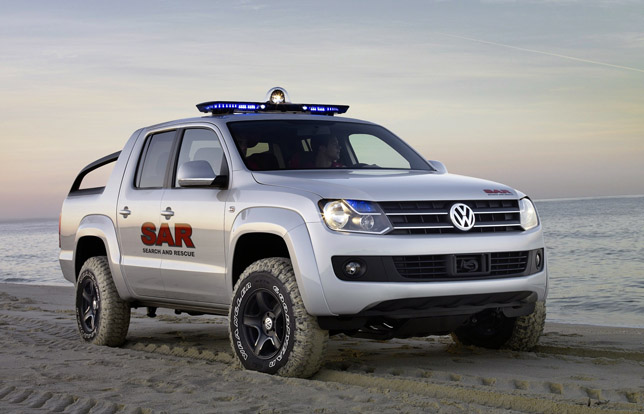 Developed from scratch, the Amarok will be launched as a double-cab pickup with four-wheel drive, while a single-cab version will be introduced later.  It will be powered by Volkswagen's powerful yet efficient, next generation common rail turbo diesel engines which will achieve class leading fuel consumption and emissions.
The Amarok is an important new model in the strategic growth plans for Volkswagen Commercial Vehicles and will be produced at its Pacheco plant near Buenos Aires in Argentina.  It will be launched first in South America in early 2010, followed by Central America in Spring 2010, then Russia and Europe in the summer, as well as Africa and Australia.  Prices, specifications and on-sale dates for the UK will be announced next year.