Avenir-Inspired 2017 Buick LaCrosse Previewed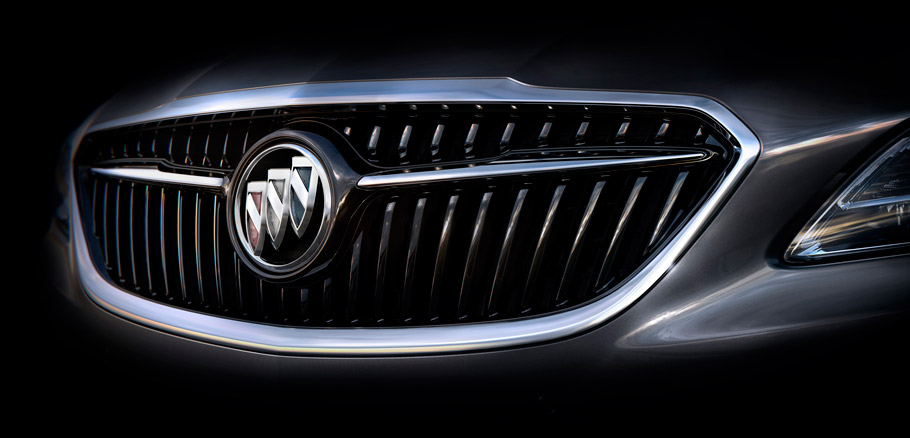 2017 Buick LaCrosse has a brand new and more expressive face. The proof for this is the teaser image that has just been shown by the famous American company. In addition, Buick also says that LaCrosse's design is inspired by the latest Avenir concept and it is actually a striking evolution from current Buick models.
Impressive or Expressive Front?
As you can see from the picture above, the car has a grille with a brand new design. In fact, it also comes to put a new face on the brand. This new appearance includes three-color tri-shield insignia set on a wing-shaped element. An interesting historical fact is that the tri-shield logo is rooted in company founder David Dunbar Buick's Scottish family crest.
SEE ALSO: 2015 Buick Avenir Concept Revealed at NAIAS
The trio of colors is contrasted via the darkened waterfall grille bars. The same element is also spanning the width of the opening, and in such way it is connecting the grille and headlamps, thus highlighting LaCrosse's new sculptural surfacing.
Other Details
Initially, the design of Avenir was inspired by the 1954 Wildcat II concept. And the biggest news is that by 2018 this will be the new face of all Buick models.
Furthermore, the next-gen LaCrosse has a design which is based on a new chassis that is stronger but lighter than the current model. This chassis also promises more dynamic driving experience. Buick also revealed that new technologies such as the five-link rear suspension will be featured. By the way, this suspension contributes to a more responsive ride, while at the same time taking Buick's signature quietness to a new threshold.
We don't have to wait much longer than November to witness the full reveal of 2017 Buick LaCrosse. The premiere of the car is scheduled for the Los Angeles Auto Show.