2017 Camaro 50th Anniversary Will Be the Pace Car at the Indianapolis 500!

A special version of the 2017 Camaro SS 50th Anniversary Edition will lead the 100th running of the Indianapolis 500 next month, personally driven by motorsport legend Roger Penske, who is also marking 50 years as a race team owner. This is the ninth time Camaro has served as the pace car and the 27th time for Chevrolet since 1948.
There are four identically prepared pace vehicles in order to support the race, all with the exclusive Abalone White exterior and the "100th Running of the Indianapolis 500" logo on the quarter panels. The exterior styling also incorporates some elements of the Camaro 50th Anniversary pack.

In case you didn't know, there is no other racing team that recorded more wins at the Brickyard than Team Penske. The first victory was achieved back in 1972 and since this glorious year the team managed to dominate the track until today.
But what about the vehicle itself? The 50th Anniversary Edition honors the unique looks and performance features that have always been part of the Camaro soul. The model is offered on 2LT and 2SS coupe and convertible models, all with Nightfall Gray Metallic with 50th Anniversary stripe and badges.
SEE ALSO: BBM Motorsport Tunes Chevy Corvette C7 to 700HP and 1233 Nm [w/videos]
Also, part of the standard feature are the distinctive 20-inch 50th Anniversary wheels, unique grille with satin chrome accents, body-colored front splitter, orange brake calipers, black leather interior, distinctive 50th Anniversary treatments on instrument panel, seatbacks, steering wheel and more.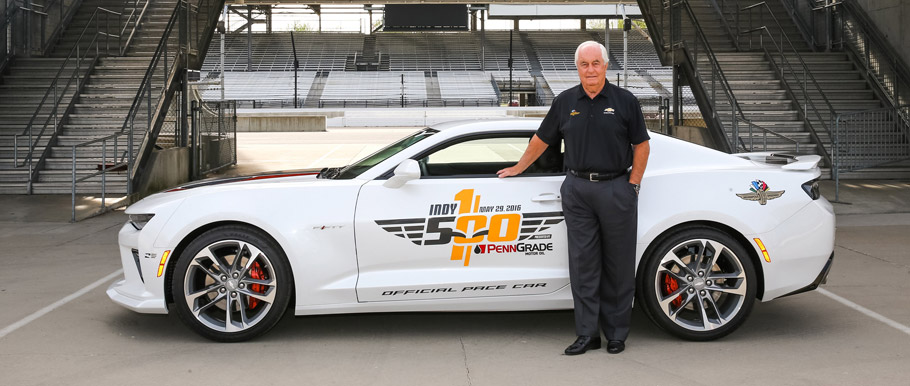 In terms of drivetrain system, the Camaro 2LT comes with a 2.0-liter turbo engine with a total of 275hp (205kW) and a 335hp (250kW) unit as an option. The 2SS features the LT1 6.2-liter V8 with a total of 455hp (339kW), available with six-speed manual or eight-speed automatic gearbox. In fact, the 2SS is by far the most powerful Camaro produced.
And here is a list of Camaro pace cars throughout the years:
1967 – RS/SS convertible
1969 – RS/SS convertible
1982 – Z28 coupe
1993 – Z28 coupe
2009 – SS coupe (2010 model)
2010 – SS coupe
2011 – SS convertible
2014 – Z/28 coupe
2016 – Camaro SS (2017 50th Anniversary Edition).
Source: Chevrolet