2017 Lamborghini Aventador SuperVeloce Roadster And the First Images

2017 Lamborghini Aventador SuperVeloce Roadster LP750-4 is already available for order! The super-ultra sexy vehicle has also demonstrated its beauty with three pictures. And as we can see the Lambo just looks stunningly good. But this is not all. President and CEO Stephan Winkelmann comfirmed, that the 2017 Lamborghini Aventador SuperVeloce Roadster LP750-4 will be limited to only 500 units. He also said, that the vehicle will be with similar stats to the Aventador SV coupe.
2017 Lamborghini Aventador SuperVeloce Roadster and its offerings
Drivetrain system
Along with the looks, the vehicle will grant its owners with some stunning power. The heart of the beast is a V12 engine, capable of producing 750 hp (551 kW). And that crushing power will help the Lambo to go from 0 to 100 km/h (62 mph) in just 2.8 seconds and with that impressive start it will chase the top speed of 391 km/h (221 mph). You are still not impressed?! Well, with that crushing force comes also a wonderful design. So, let's talk about it.
SEE ALSO: Lamborghini Aventador, 458 Italia and LaFerrari Share Something in Common
Exterior
The first glimpse of the 2017 Lamborghini Aventador SuperVeloce Roadster left us speechless. Really. First of all, the vehicle charms you with its interesting color scheme, originally named Blu Glauco, mixed with some nice red lines. Wonderful. The front of the 2017 Aventador actually bears all well-known Lambo lines. The vehicle will look at you with its confident face and nicely restyled headlamps and will also demonstrate some massiveness with the nicely done dual grille design.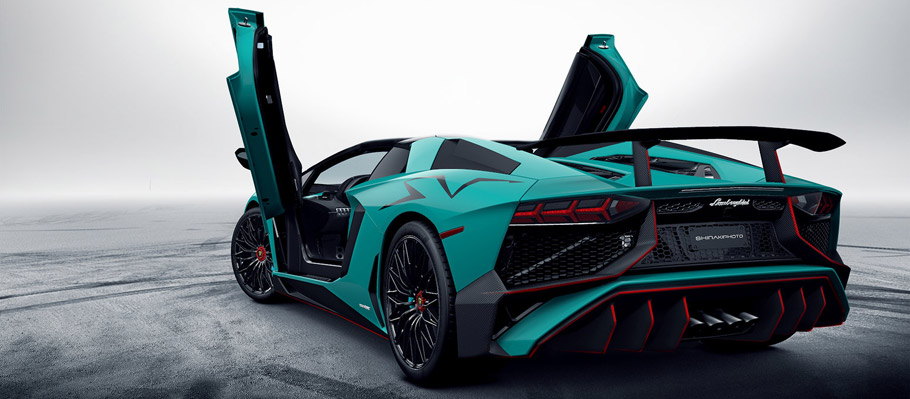 The sides continue the affair with some stylish, yet fast-looking lines, along with graphics at the rear bumper. The wheels of the Lamborghini also had their attention and they stand up with distinctive design and nicely done lines.
And now the interesting part. The back of the 2017 Aventador. It is simply stunning. And massive. First of all you see some nicely done grille design and a really interesting taillights design. The four exhaust pipes are placed at the lower middle section, surrounded of numerous carbon-fiber elements. Massive and confident. This is really a piece of art.
So, the Lamborghini team really impressed us with their latest work. Meanwhile we will continue to follow the trends in the Lambo base, so stay with us for further information!

Source: jordanshiraki.com