Lamborghini Debuts Aventador SuperVeloce Roadster and Announces Pricing

2017 Lamborghini Aventador LP 750-4 SuperVeloce Roadster was announced in the beginning of July. Back then, the first images were revealed showing how cool this non-conventional cabrio looks like. In addition to this, Lamborghini also opened the orders for the car. Now, the supercar has been officially unveiled and showed to the public at the famous event 'The Quail, A Motorsports Gathering'.
Staggering Performance
At the event, the representatives of the brand announced that the special car will be available in a limited run of 500 units worldwide. Being the first open-top Lamborghini to bear the name SuperVeloce, this car has some unique characteristics. Follow me as I tell you more about it.
SEE ALSO: 2017 Lamborghini Aventador SuperVeloce Roadster And the First Images
We all know that the SuperVeloce family offers greater performance. This specific example here delivers even better power output with an increase of 50 hp resulting in a total of 750 hp (552 kW) at 8,400 rpm. The optimum torque has been estimated at 690 Nm (509 lb-ft).
If you wonder about the acceleration time, there are no surprises but the familiar 2.9 seconds for the 0-100 km/h (0-62 mph) sprint. The top speed is estimated to be more than 350 km/h (217 mph).
Lamborghini Aventador SuperVeloce Roadster can sprint from 0 to 100 km/h in 2.9 seconds and can produce up to 750HP!
Responsible for this staggering performance is the naturally aspirated 6.5-liter V12 engine. It is connected to the innovative 7-speed ISR transmission, which transfers the power to all four wheels through a Haldex Generation IV 4WD system. Just like its coupe sibling, this open-top SV Lamborghini also benefits from the adaptive Magneto Rheological Suspension, a pushrod damping system and Lamborghini Dynamic Steering (LDS), thus ensuring there are better driving dynamics.
Given that the SuperVeloce Roadster has a dry weight of 1,575 kg (3,472 lb), being 50 kg (110 lbs) lighter compared to the Aventador LP 700-4 Roadster, this means that this unique vehicle has an exceptional power-to-weight ratio of just 2,1 kg/hp (4,6 lb/hp).
Better than the SV Coupe?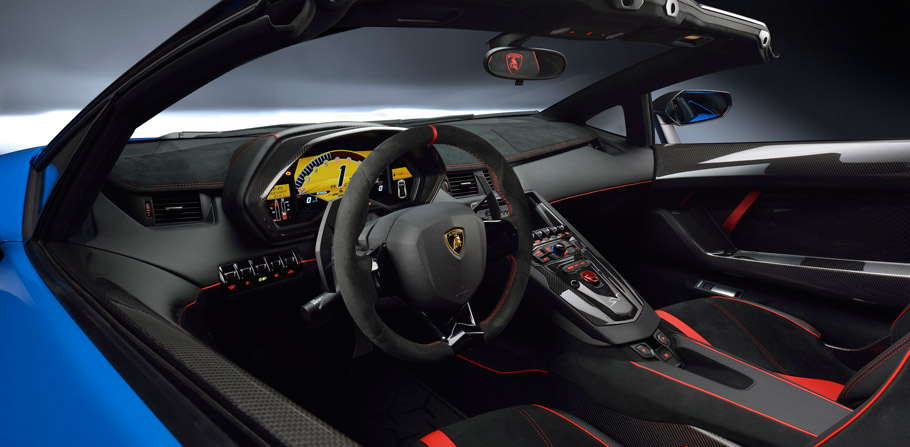 SuperVeloce Roadster includes a power rear window, which is absent in the coupe variant. This allows the engine sound to fill the cabin with invigorating tones and harmonics. In similarity to the Aventador LP 700-4 Roadster, the SV Rodster has also received the two-piece hardtop made from carbon fiber and technologies like the RTM and Forged Composite.
There are exactly two roof parts, each of which weighs a little less than six kilograms (13.2 lb) and can be stowed easily in the luggage compartment. They are in perfect harmony with the monocoque, which is also made from carbon fiber.
Pricing and Deliveries

In case all this data has convinced you of buying the Lamborghini Aventador LP 750-4 Superveloce Rodster, than you should also know that you have to prepare no less than 357,000 Euros or $530,075 USD. If you be among the first 500 to order it, then you should expect your delivery no sooner than early 2016.
For this amount of money you'll definitely get the purest, most sports-oriented and fastest series production Lamborghini in its Roadster version.
Source: Lamborghini