500byDiesel Now Available Exclusively On-Line
A special edition version of Fiat's popular 500 city car has just gone on sale exclusively through the Internet.The 500byDIESEL, a global limited edition run of just 10,000 examples, is the result of a collaboration between Fiat's Style Centre in Turin and fashion label DIESEL's design team. The idea was to create an 'Urban Survival Vehicle', perfect for town traffic, yet expressing the personality of its alternative young brand lovers.
500byDiesel represents Fiat's first venture into selling vehicles via the web and follows the success of the Abarth 500 on-line deposit offer, which allowed customers to pre-order 200 of the performance supermini six months in advance of UK availability. All of these cars were allocated three months ahead of schedule.
Now, a new fully automated process allows customers to configure a 500byDIESEL, pay a deposit, order it direct from the factory, track the car's progress, make a final payment and liaise with a geographically appropriate dealer about collecting the new vehicle – all on-line.
The 500byDIESEL Internet campaign is thus Fiat's next step into e-commerce and purchasing, exclusively online through www.fiat.co.uk.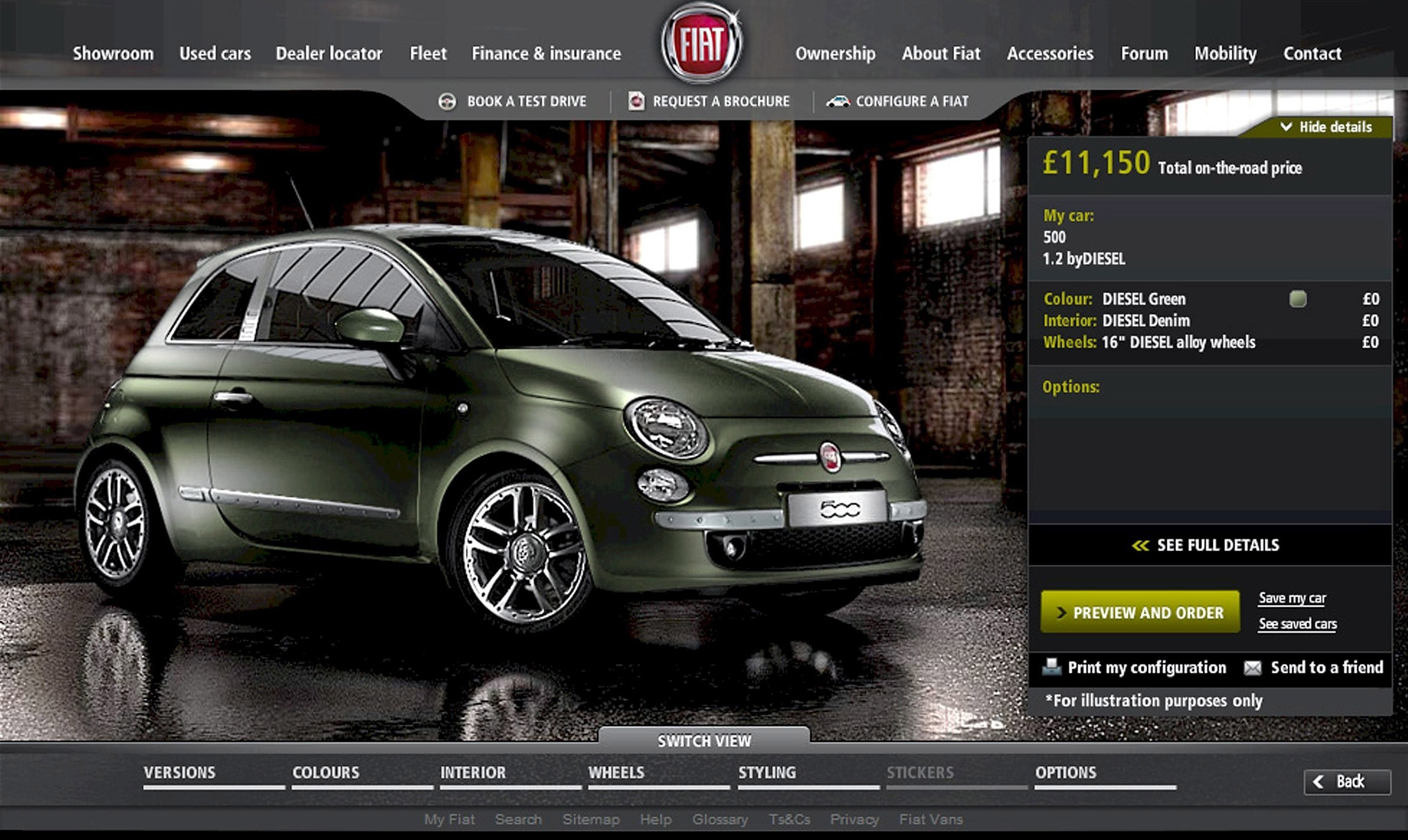 "This new route to market is an exciting and futuristic development for Fiat," says Elena Bernardelli, marketing director, Fiat UK. "The Fiat 500 is also a perfect fit for DIESEL and we are pleased to have this fantastic association with them."
Based on a Fiat 500 Sport version, the 500byDIESEL comes in metallic green, black or brown. The exterior features 16-inch alloy wheels with the DIESEL logo, brake callipers painted yellow (an option only on the 100 bhp 1.4 version), unique side trim with DIESEL wording, and special door mirror fairings.
Inside, there's special upholstery in denim fabric. The label logo also appears on the instrument panel and gear knob, while a special pouch, reminiscent of the fifth pocket on DIESEL jeans, appears on the side of the front seats. In-car entertainment comes courtesy of Fiat's Blue&Me hands-free telecommunications and entertainment technology, which means the car is eco:Drive compatible.
The 500byDIESEL will be available with all three Euro 5-ready power units in the Fiat 500 range – the 69 bhp 1.2 unit, 75 bhp 1.3 MultiJet with DPF, and a 100 bhp 1.4 16v engine. Prices start at £11,150.