AC Schnitzer ACS4 BMW 2.8i Coupe Police Concept [VIDEO]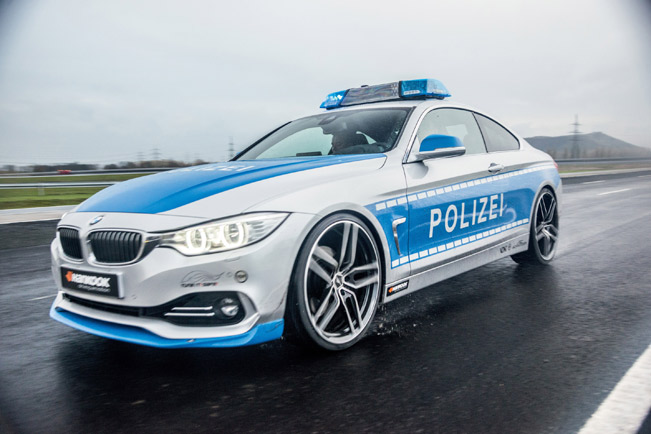 VDAT (from German: Verban Der Automobil Tuner) stands for the "Association of German Vehicle Tuners", and the Essen Motor Show is where all of the members have a get together and show off their ambitious, and sometimes even mad, projects. Annually, however, they take the opportunity to work together on a concept vehicle as part of a campaign called "Tune it! Safe!" What that mutual effort aims to show, is that one can still make insanely cool and fast vehicles and be responsible all the while. So nothing like the R8 from yesterday then. For the fourth consequent year, the subject vehicle was a police car (a BMW 428i Coupé, to be precise). Baddies, beware!
It would appear that most of the credit for this year's concept goes to AC Schnitzer. In fact, it is called the ACS4 2.8i Coupé which really means that most of the work was done by them. What they did was to add a little more oomph to the standard 2.8i engine, fiddle with the suspension, install some spoilers, and throw in a couple of accessories for the inside. The only other companies mentioned are the ones that provided the Foliatec (responsible for the police décor) and Hella (RTK 7 signalling system). Hankook, on the other hand, are said to be the chief sponsors behind the project. That's why the AC Schnitzer Type VIII Lighweight Forged Wheels get to wear two pairs of Hankook Ventus S1evo tires in sizes 245/30 R21
With the AC Shnizer performance upgrade, the BMW now boasts a power value of 294 hp (up a sensible notch from 245 hp). As a result, the top speed is now limited to 155 mph; and 0 to 62 is done in 5,7 seconds. The based-in-Aachen guys claim that now the CO2 value per HP sees an improvement over the standard setup.
Because the torque is also up to 420 Nm, the ACS4 needs something to tame the additional grunt and put it to use. This is where the AC Schnitzer racing suspension comes in place. It ha has adjustable bump and rebound settings and lowers the whole of the car with around 25 mm. Hopefully, the officers of the law will still be able to clear a speed hump withouth wasting the AC Schnitzer front splitter. There's also a spoiler at the roof and at the back.
Inside aluminum seems to be the predominant theme – "Black Line" (still aluminum) handbrake handle and gear knob plus aluminum pedals and foot rest. There's also a new key holder and velour floor mats – fascinating.
So, there you have it. Responsible. sensible, cool and safe in just about every sense of the word.
Source: AC Schnitzer