xXx Performance Juice the Audi R8 4.2 FSI Quattro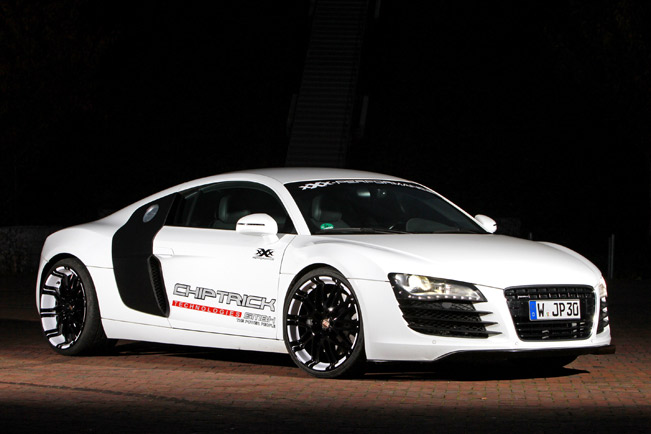 The ridiculous Oxigin 14 Oxrock rims with their silly spinning wraps strike again! This time the victim is an xXx-Performance Audi R8 4.2 FSI quattro. A shame, actually, since at a glance this mod sounds pretty appealing. Well, the livery/sponsorship too is a bit over the top.
The program is aimed at those R8 owners who look at the V10 version and go green with envy. Now they too can enjoy even greater surges of power because xXx-Performance have teeamed up with Chiptrick for this one, and they have managed to squeeze every drop of power from its "inferior" V8 FSI engine. Though, squeeze may not be the right term. Afterall, they've added a twin turbo system made up of two Garret turbines and a custom-made intercooler. Consider also the new high-pressure fuel pump, the more efficient injection nozzles, and the custom-built exhaust system with cross x-pipe plus flaps. It's the embodiment of the sound and the fury. Vehicles with the sequential R-tronic 6-gear manual transmission are moreover upgraded with a special transmission software that is adapted to the new situations.
By now you might be wondering to what all of this equates. There are three stages of power boost:
Stage 1: 590 hp; 660 Nm of torque
Stage 2: 640 hp; 675 Nm of torque
Stage 3: 707 hp; 809 Nm of torque
With Stage 3, you can get from 0 to 60 mph in just 3.6 seconds. The top speed would be limited to 194 mph. One other drawback, though: quite worryingly, there don't seem to be any changes made to the chassis. Just some stupid wing attachments that mimic the V10 counterpart. Bottom line is, were we to have a go in it, ending up in a ditch would be inevitable.
Source: xXx Performance