AC Schnitzer High Performance Brake System for BMW M3
Enjoy unrestricted driving comfort and be prepared for every situation: you can achieve both with the AC Schnitzer high performance brake system for the BMW M3 (E90, E92, E93). The high quality brake system offers excellent performance and values which are usually only achieved by sports cars. In conjunction with the height-adjustable racing suspension (adjustable in compression and rebound) tested on the North Loop of the Nürburgring, the BMW M3 makes the heart of every sports car driver beat that bit faster.
"The neutrality well known from the M3 takes on a new dimension in AC Schnitzer trim", was the verdict of the specialist magazine "sport auto" when testing the ACS3 Sport Coupé. The new brake system uses fixed calipers with 6 pistons on the front and 4 on the rear. The slotted brake discs, vented internally on both front and rear, respond quickly and precisely.
At the same time, the AC Schnitzer high performance brake kit is renowned for its excellent deceleration values even on sustained use, in extreme heat and in pouring rain. The generously sized brake discs measuring 380 x 35 millimetres at the front and 355 x 32 millimetres at the back bleed off the speed energetically and with stable pressure even after the twentieth time.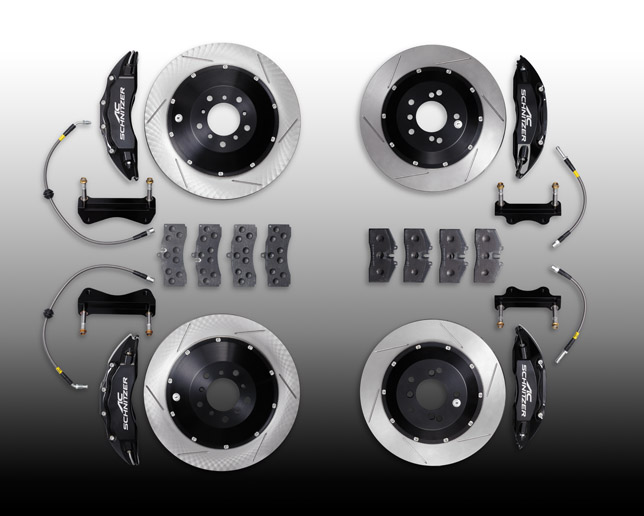 The new AC Schnitzer high performance brake system is available for all three variants of the current BMW M3 both as a complete system for front and rear, or "just" for the front.
"Totally suitable for the track, and for a long time" was the verdict of "sport auto" after testing the high performance brake system. A verdict to endorse fitting, and not only for sporting driving styles.
Technical Data Brake system, front
AC Schnitzer ACS3 Sport Coupé based on BMW M3 Coupé

BMW M3 Coupé

Type

6-piston fixed caliper

1-piston floating caliper

Brake disc size

380 x 35 mm

360 x 30 mm

Brake disc weight

9.1 kg/each

10.18 kg/each

Caliper weight (inc. pads)

5.8 kg/each

6.56 kg/each

Slotted/drilled

slotted

drilled

Internally vented

yes

yes
Technical Data Brake system, rear
AC Schnitzer ACS3 Sport Coupé based on BMW M3 Coupé

BMW M3 Coupé

Type

4-piston fixed caliper

1-piston floating caliper

Brake disc size

355 x 32 mm

350 x 24 mm

Brake disc weight

8.98 kg/each

9.08 kg/each

Caliper weight (inc. pads)

5.06 kg/each

5.06 kg/each

Slotted/drilled

slotted

drilled

Internally vented

yes

yes
Braking distance and deceleration values
AC Schnitzer ACS3 Sport Coupé based on BMW M3 Coupé

BMW M3 Coupé**

From 100 km/h (warm)

33.8 m

34.3 m

Deceleration

11.4 m/s²

11.3 m/s²

From 200 km/h (warm)

132.2 m

133.9 m

Deceleration

11.7 m/s²

11.5 m/s²
*Values from "sport auto" test 11/2008
**Values from "sport auto" test 12/2007