Acura RLX Sport Hybrid SH-AWD Debut at 2013 LA Auto Show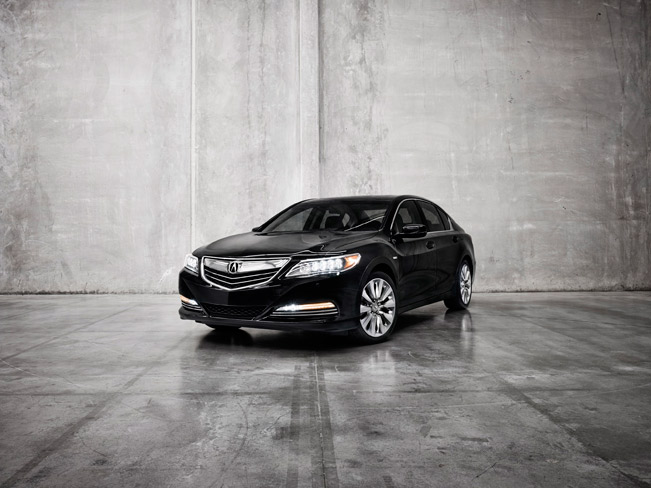 It would seem that the LA Auto Show will be a bit saturated with hybrid debuts this year. It was only yesterday when we discussed the Volkswagen CrossBlue Coupe and now this - Acura all-wheel drive hybrid. Unlike the former, however, the it is a proper production car ready to hit the markets.
It's called the Acura RLX Sport Hybrid SH-AWD, and the company sees it as a landmark model since it is going to be the first vessel to incorporate their "new three-motor hybrid system" (and that's not counting the engine). Sounds rather ground braking, yet, the economy figures are not what one might call inspiring (for a hybrid): 30 mpg on the combined cycle. Yes, the 3.5-liter, 310 hp i-VTEC V6 sounds thirsty but it has an idle-stop feature which surely has been taken into account when measuring the consumption. Anyway. Other technological highlights include a 7-speed dual clutch transmission with a buit-in electric motor. It's supposed to be extra-smooth and responsive. There are even "SportShift" paddles behind the wheel for manual shifting. As for the electric components we have two electric motors replacing the conventional drive shaft and rear differential. Then there's one at the front which supplements the V6. All three of them can also act as generators when braking. As a final estimate, Acura say that the power output comes to around 377 hp. No performance figures, just a cryptic 0-60 mph time "comparable with competitor's V8 machines."
One should feel fairly secure behind the wheel. The front suspension, they say, consists of a double-wishbone, lower double-joint modules alongside Amplitude Reactive Dampers. The back enjoys a multi-link setup that's supposed to keep the car flat during cornering. Then there is the plethora of systems safety systems like: Collision Mitigation Braking System (CMBS), Forward Collision Warning (FCW) and Lane Departure Warning (LDW), along with Lane Keeping Assist System (LKAS), Adaptive Cruise Control with Low-Speed Follow and Blind Spot Information (BSI) system.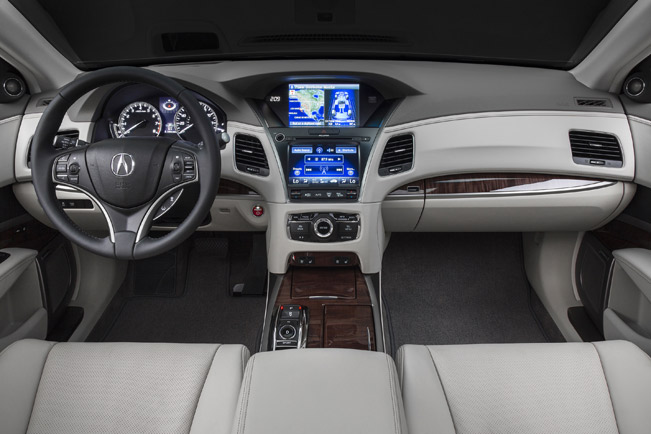 Inside, we hear that the RLX has loads of space – 38.8 inches of legroom at the back, 59.6 inches at the front, and 57.0 inches of shoulder room. The center console holds two big screens one over the other. (8- and 7- inches respectively) and there are 14 speakers all-around. What this RLX brings in terms of innovation is the lack of shift lever. Instead you get a panel of buttons for park, drive and neutral. A highly customizable HUD display will also be a first.
That is pretty much all we know for now. That and this gallery:
Source: Acura