Age Of The Diesel Sports Car Is Fuelled By Audi
An all-new Audi TDI endurance racer carrying the genes of the first and only diesel-powered sports car to win the Le Mans 24 Hours has opened its account with a maiden victory in Florida's Sebring 12 Hours (21 Mar), and these same genes are spawning advanced diesel-powered road cars like the TT TDI, Q7 V12 TDI and A5 3.0 TDI.
The Vorsprung durch Technik brand is leading the way in diesel power for road going performance cars, and this is especially evident in the Q7 V12 TDI quattro with its 6.0-litre TDI unit directly derived from the pioneering and history-making R10 TDI sports prototype which conquered Le Mans. Spurred on by a mammoth 1,000Nm torque output, the flagship Q7 accelerates from rest to 62mph in just 5.5 seconds, but bald figures can't hope to convey its epic performance.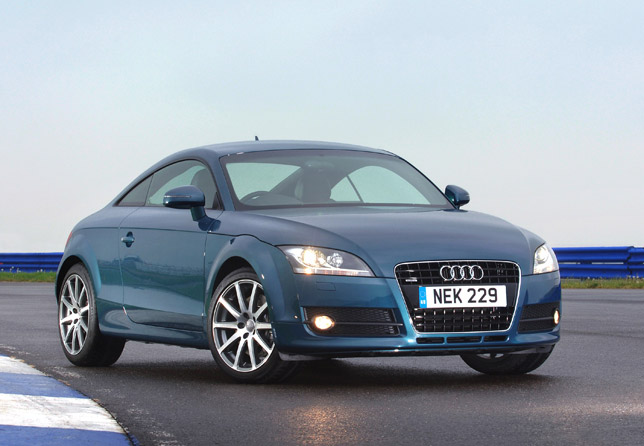 The new Audi R15 TDI has an incredibly hard act to follow in the R10 TDI, which in 2006 became the first in the history of endurance racing to win an international sports car race using TDI turbo diesel power, and went on to make Le Mans 24 Hour race history with an inaugural victory that same year. But the newcomer is already showing great promise, taking a debut race victory in the historic Sebring 12 Hours in Florida on March 21st. Britain's Allan McNish and co-drivers Tom Kristensen (Denmark) and Dindo Capello (Italy) clocked up a record distance at a record average speed in the process.
Equally encouragingly, the R15 TDI, which will race in this year's Le Mans 24 Hours over 13-14 June, was not only the most reliable and fastest prototype at Sebring but also the most efficient: Audi celebrated a clear 1-2 victory in the "Michelin Green X Challenge" in which fuel consumption is measured in relation to the performance.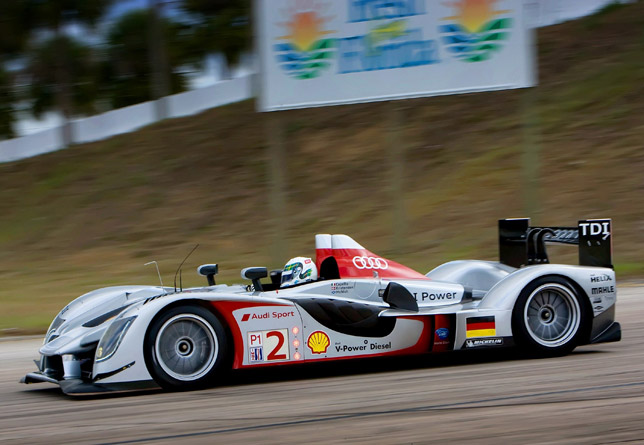 Fewer cylinders, less CO2 The new 10 cylinder Audi TDI racing engine responsible for this unparalleled efficiency replaces the V12 TDI powering the three-time Le Mans-winning R10. Compared with this already exceptional power plant, specific fuel consumption and associated CO2 emissions have been further reduced, despite the fact that the V10 TDI produces over 600PS and a maximum torque of approximately 1,000 Newton metres.
"In our opinion this is the best compromise for new regulations introduced by the Le Mans organisers for this year which sees 10 per cent smaller air inlets and almost seven per cent less turbo pressure," says Ulrich Baretzky, Head of Engine Development at Audi Sport.
"It's not only a question of absolute power but also weight, size and driveability. This means also the engine has been subject to the strong demands of the whole package of the car."
In accordance with regulations the V10 TDI has the same maximum 5.5-litre displacement as the 12-cylinder. The removal of two cylinders, however, enables a more compact design and a significant reduction in weight, the distribution of which has consequently been dramatically improved compared with the V12 TDI.
Audi Sport technicians did not only restrict themselves to reducing the weight and dimensions. Innovations in the choice of materials used, and in the areas of turbo charging and fuel injection have helped to maximise power and torque output and to optimise throttle response for improved driveability.
The exhaust system mated to the Audi engine is also completely new. The titanium tail pipes now emerge on the upper side of the bodywork directly behind the power unit. Shortening the tail pipes also saved weight. Furthermore, the gases are now channelled more efficiently on to the rear wing and, as a result, also have an aerodynamic function. The lighter, next generation diesel particle filters (DPF) are even more compact than those of the R10 TDI and generate even less back pressure.
Building a legendary Diesel history Audi began endurance sports car racing in 1999 having changed the face of world rallying forever with revolutionary quattro all-wheel-drive and turbo power in the 1980s – another pioneering technical innovation by the German prestige car manufacturer that celebrates its Centenary this year (16 July 1909-2009).
On firmer ground Audi won the world famous Le Mans 24 Hours with its petrol powered Audi R8 five times (2000-2, 04 & '05) – from 2001 onwards with FSI Direct Fuel Injection technology – before scoring a hat-trick of wins courtesy of diesel power (06-08).
Many Audi stars of the past and present from both rally stage and race circuit - including the legendary Silver Arrow Auto Unions - can be seen at this year's Goodwood Festival of Speed (3-5 July 2009). Audi is the "featured marque" and takes "centre stage" with the main display in front of Goodwood House for this world class festival. The Audi R15 TDI Le Mans car will be on display for close inspection.