Alfa Romeo 4C To Mark Brand's Return In North America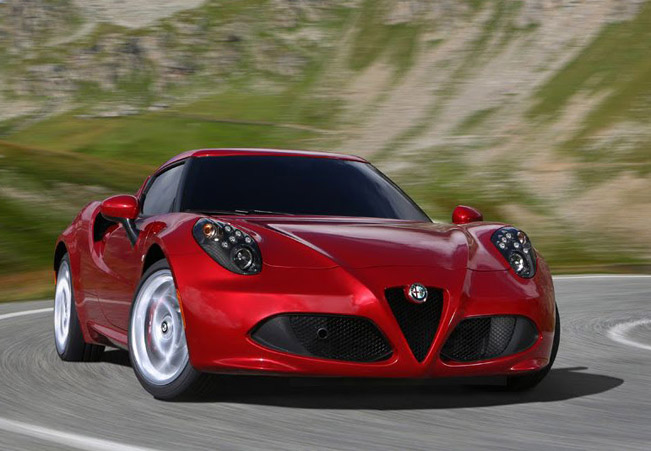 At the 2014 New York International Auto Show Alfa Romeo will make its North American return with the debut of the high-performance Alfa Romeo 4C. The exotic mid-engine vehicle will exude its design, which was inspired by the brand's historic racing history.
4C is equipped with state-of-the-art carbon fiber monocoque, driven by turbocharged engine influenced by Formula 1, and boasts advanced technological solutions. All this contributes for supercar-level performance and driving exhilaration.
In details, the car is powered by a 1.8 liter turbocharged petrol engine that generate 240 hp (177 kW) and 350Nm (258 lb-ft) of torque. The engine is coupled with a dual-clutch transmission, which makes it even easier for the car to accelerate from 0 to 100 km/h in 4.5 seconds on its way to a top speed of 258 km/h (160 mph).
What is more, this Alfa Romeo also returns great fuel consumption and has low emissions. It needs 6.8 liters for 100 km (41.5 mpg) and also emits 157 g/km of CO2. All these figures are due to its super-low weight of 895kg (1973 lb).
The Essential trim, which is the standard entry level, is equipped with a digital instrument cluster, a leather-wrapped steering wheel and fabric seats, as well as grey brake calipers, a dual exhaust system and 17 inch alloys. Of course, there are also optional packs that the brand is going to exclusively offer to U.S. customers.
With the 4C model Alfa Romeo shows the essential Italian sportiness embedded in the brand's DNA. Style, performance and technical excellence are all mixed in this car, which also delivers maximum driving pleasure in complete safety.
Source: Alfa Romeo