Alfa Romeo 4C Safety Car for 2014 WTCC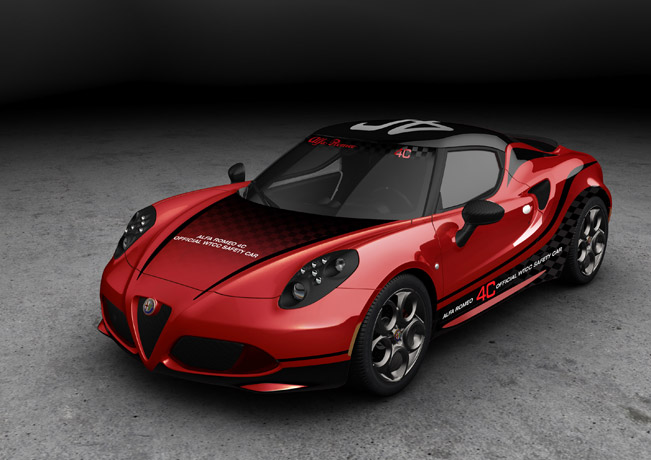 Alfa Romeo 4C immediately became one of the most appreciated cars on the market. What is more, the World Touring Car Championship (WTCC) chosen it to be a Safety Car during the races. Last week, BMW has introduced the M4 MotoGP Safety Car for this season and now the small Alfa Romeo 4C will take its duties.
The first appearance during a race will be on April 12th – the first round of the season at Moulay El Hassan Circuit of Marrakech in Morocco.
As a reminder, the 2013 Alfa Romeo 4C is powered by a 1.8 liter turbocharged petrol with 240HP (177 kW) at 6,000RPM and 350Nm (258 lb-ft) at 2,000RPM of torque. The engine is connected to a dual-clutch transmission. 0-100 km/h in 4.5 seconds and a top speed of 258 km/h (160 mph). It will average 6.8 liters / 100 km (41.5 mpg UK) with CO2 emissions of 157 g/km. All these figures are thanks to the super-low weight of 4C – just 895kg (1973 lb).
The 4C was also named "Most Beautiful Car of 2013" at the 29th International Automobile Festival of Paris.
The complete 2014 FIA WTCC schedule follows:
12-13 April                Morocco         Moulay El Hassan Circuit 19-20 April                France           Paul Ricard Circuit 3-4 May                 Hungary         Hungaroring 10-11 May             Slovakia      Slovakia Ring 24-25 May             Austria            Salzburgring 7-8 June                  Russia             Moscow Raceway 21-22 June              Belgium              Circuit de Spa-Francorchamps 2-3 August                  Argentina        Autódromo Termas de Río Hondo 13-14 September         United States        Sonoma Raceway 11-12 October              China                Shanghai International Circuit 25-26 October              Japan        Japan 14-16 November         Macau            Da Guia Circuit
Source: Alfa Romeo