All-new 3.0 liter EcoDiesel V6 - 240HP and 570Nm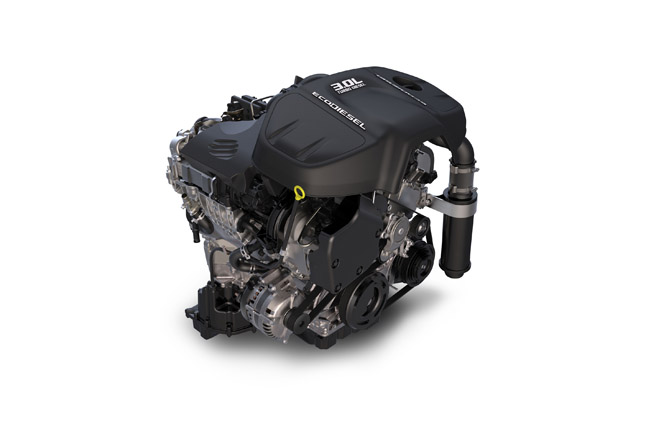 Chrysler's all-new 3.0 liter EcoDiesel V6 delivers – 240HP (177 kW) and 570Nm (420 lb-ft) of torque at just 2,000RPM. It powers the 2014 Jeep Grand Cherokee and 2014 Dodge Ram 1500. The NAFTA market's first and only light-duty pickup powered by clean diesel technology.
"Quiet, strong and as smooth as the diesels we've been testing in luxury cars, the Ram 3.0L V-6 works in perfect harmony with Chrysler's standard 8-speed transmission to deliver an unbeatable combination of power and efficiency," commented Drew Winter, editor-in-chief of WardsAuto World magazine.
"Thanks to advanced emissions-control technology, its exhaust is ultra-clean, making this engine available in all 50 states. If you're planning serious work or play, the Ram EcoDiesel really makes sense.", he added.
The EcoDiesel's fuel pump is upgraded to accommodate the engine's 2,000-bar (29,000-psi) high-pressure common-rail injection system.
The engine also benefits from Fiat's MultiJet 2 technology, which enables Injection Rate-Shaping – fuel injection that is modulated to mitigate noise and improve low-speed throttle response, while reducing fuel consumption and emissions.
The system's high-dispersion nozzles and advanced-technology servovalve can accommodate up to eight fuel-injection events per cylinder cycle.
Source: Chrysler