All-New Fiesta Van Leads Ford Line-Up at 2008 IAA Commercial Vehicle Show
The all- new Ford Fiesta Van makes its public debut at the 2008 IAA Commercial Vehicle Show in Hanover, bringing practicality, style and fun to the European light commercial vehicle segment.
Based on the all-new Ford Fiesta car which is being launched in Europe from autumn 2008, the Fiesta Van derivative is designed to meet the needs of professional or personal use customers and will be available in most European markets from early 2009.
Practical and Compact For its latest reincarnation, the new Fiesta Van sets out to exceed the needs and expectations of commercial customers who want a small van.
With its compact exterior footprint, practical load compartment area and low cost of ownership, the Fiesta Van is the ideal choice for urban express delivery, service fleets and artisans thanks to its combination of van practicality and car-like styling and usability.
Note: Fuel economy figures quoted are based on the European Fuel Economy Directive EU 80/1268/EEC and will differ from fuel economy drive cycle results in other regions of the world The new model shares many of its key qualities with the car on which it is based, the all-new Ford Fiesta.  The sturdy yet lightweight 3-door body shell is a solid foundation for a safe and agile driving experience, high levels of durability, low fuel consumption and emissions, and a payload capacity that meets LCV segment expectations.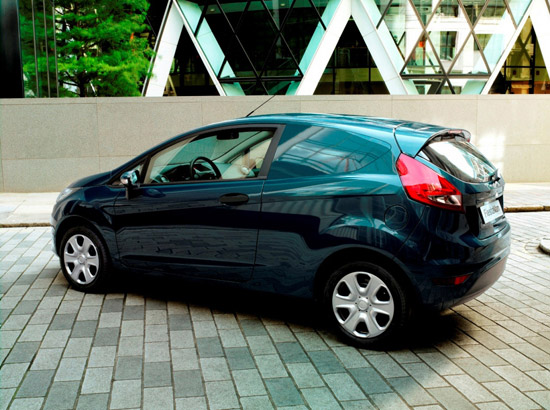 The new Fiesta Van is particularly stylish, thanks to the 'kinetic design' form language of its 3-door passenger car body in which the rear side windows are replaced by body coloured solid panels, and the rear passenger seats are removed to provide space for a clean and step-less load box area.
The load box volume is targeted to exceed 1,000 litres in volume, with a maximum useable load length of up to 1292 mm, as well as a maximum load box width of 1278 mm (1004mm between the wheel arches) and heights of up to 936 mm.   The roomy load area is shielded from the driver compartment with a standard half-high bulkhead.  Standard solid DIN-compliant tie-down hooks and an optional upper DIN bulkhead extension make sure that this compact city-friendly van is fully compliant to the DIN cargo retention regulations all over Europe.
Low Cost of Ownership The new Fiesta Van is available with a well balanced choice of engines to offering commercial customers excellent fuel economy and low cost of ownership.
Engines available include the 1.25-litre Duratec 16V petrol unit (82 PS/60 kW), a frugal 1.4-litre Duratorq TDCi turbo diesel (68 PS/50 kW), and a top-of the-range 1.6-litre Duratorq TDCi (90 PS/66kW) turbo diesel with standard closed-loop coated DPF (Diesel Particulate Filter).
(Note: All technical data quoted for Fiesta Van are preliminary, and may be subject to final adjustment prior to launch)
The fuel economy figures of the Fiesta Van are targeted to match those of the Fiesta 3-door passenger car.  With a European Drive Cycle combined fuel consumption of just 4.2 l/100 km (67.3 mpg)* and an average CO2 emission of just 110 g/km, both of the diesel engines offer a value-for-money 'green' proposition and deliver real world fuel cost savings to business customers when compared with older types of diesel powertrain.
Safe and Enjoyable Using the 3-door new Fiesta passenger car as the basis for the Fiesta Van means that commercial customers can benefit from a wide range of  technologies and features designed to ensure a safe and enjoyable working environment for their drivers.
The nicely balanced chassis setup with MacPherson struts in the front and a rear twist-beam suspension is designed for a safe and controllable ride under all loading conditions.
The new EPAS (Electric Power Assisted Steering) system delivers high levels of steering accuracy and contributes to lower fuel consumption thanks to the absence of a hydraulic device that would increase inertia and raise fuel consumption.
The safe and agile chassis setup is complemented by standard active safety features like ABS anti-lock brakes including Electronic Brakeforce Distribution (EBD).  ESP is available as an option with all engines and includes Emergency Brake Assist (EBA).  The passive safety feature list includes standard front airbags and optional seat mounted side airbags for driver and passenger, with a knee airbag for the driver – an industry first in this segment.
As with the new Fiesta, the Van version is also equipped with the acclaimed Ford EasyFuel capless refuelling system which is clean and easy and clean to use and also has a mis-fuel inhibitor that protects against the wrong filler nozzle being inserted.  This feature is a major benefit to commercial customers, particularly for mixed fleets and vehicles that are used by multiple drivers.
In addition, a wide range of options and accessories is available to make the Fiesta Van a tailored professional tool.  The infotainment options include various audio systems, a Bluetooth® wireless mobile phone interface and a docking station for mobile navigation systems.  Different levels of security systems can be specified, including remote controlled double-locking and a perimeter alarm.
Deliver with Style The all-new Fiesta Van is not just all about capacity and practicality.  Because it is derived from the all-new Ford Fiesta passenger car, it is the first Ford commercial vehicle to incorporate fully the company's latest 'kinetic design' styling.
"A commercial vehicle is not just a tool that has to deliver goods in a reliable and cost-efficient way – it's also a business card," said Steve Adams, Ford of Europe's new Vehicle Line Director for Commercial Vehicles.  "The new Fiesta Van delivers with great style, thanks to its highly attractive and contemporary design that stands out from the crowd, yet does not sacrifice practicality."
On the inside, the contemporary, driver-focused interior design makes the driver feel at home during working hours, while the carefully executed ergonomics contribute to a safe and easy journey.
Further technical details of the new Fiesta Van will be released closer to launch in early 2009.
More News from Ford Commercial Vehicles at Hanover As well as the global debut of the new Fiesta Van, there are some significant additions to the Ford Transit and Transit Connect ranges.
New TDCi For all front-wheel-drive Transits, a new 2.2-litre Duratorq TDCi engine with a maximum power output of 115 PS (85 kW) and standard 6-speed manual transmission is now available,  succeeding the previous 110 PS (81 kW) / 5-speed combination.  The new 115 PS engine reaches its peak power at 3,500 rpm, and delivers a maximum torque figure of 300 Nm at 1,800-2,000 rpm – a healthy improvement of 15 Nm over its predecessor.
The transmission fitted as standard with the new engine is the well-proven Ford Durashift 6-speed manual (VMT-6), a very compact three-shaft design.  This transmission offers a wider range of available gear ratios than the outgoing Durashift 5-speed (VXT75) transmission, allowing greater potential for optimisation of fuel economy at all vehicle speeds, while the power and torque upgrade offers rewarding performance on demand.  The 'shorter' gearing in first gear allows for improved pull away performance and increased towing capacity (up to 5500kg GTM), while the 'longer' gearing in top gear provides improved highway fuel economy (around 5% better vs. the outgoing 110PS/5-speed based on European Drive Cycle Extra-Urban figures), with reduced engine revs for a given vehicle speed.
As an additional aid to drivers on this and all Transit TDCi models, a shift indicator lamp is now integrated in the tachometer and indicates the optimum time for gear changes to deliver best fuel economy, reduced engine wear and smooth driving. This feature is designed to help improve the real world fuel economy and emissions.
The new engine for Transit FWD models joins the extensive and proven powertrain line-up for the range: well-proven, and flexible enough to meet the demanding expectations of commercial vehicle customers.
Ford Transit FWD 2.2-litre Duratorq TDCi, available as:
* 85 PS/63 kW (250 Nm), 5-speed manual transmission * new: 115 PS/85 kW (300 Nm), 6-speed manual transmission (VMT-6) * 140 PS/103 kW (350 Nm), 6-speed manual transmission (VMT-6)
Ford Transit RWD 2.4-litre Duratorq TDCi, available as:
* 100 PS/74 kW (285 Nm), 5-speed manual transmission * 115 PS/85 kW (310 Nm), 6-speed manual transmission (MT 82) * 140 PS/103 kW (375 Nm), 6-speed manual transmission (MT 82)
3.2-litre Duratorq TDCi / 5 cylinder
* 200 PS/147 kW (470 Nm), 6-speed manual transmission (MT 82)
2.3-litre Duratec petrol
* 145 PS/107 kW (200 Nm), 5-speed manual transmission (also available as CNG and LPG versions in Germany)
Ford Transit AWD 2.4-litre Duratorq TDCi # 140 PS/103 kW (375 Nm), 6-speed manual transmission (MT 82)
DPF Availability As a further contribution to a cleaner environment, from October 2008 all TDCi diesel versions of the Transit can be ordered and built with a closed-loop coated Diesel Particulate Filter (cDPF).
Thanks to the special coating on these cDPFs, the filter devices are targeted to be  completely maintenance-free during normal operating conditions, while the closed-loop design and link to the engine management system provide a very high filter efficiency of around 95 per cent.
The offering of cDPFs for all Transit TDCi diesels builds on the cDPF availability for all Transit Connect and Tourneo Connect vehicles with 90 and 110 PS diesels that was introduced in February 2008.
For Transit vehicles already in use, retro-fit 'Motorcraft' systems are available for a wide range of front and rear wheel driven models built from 2006 onwards through Ford franchised dealerships. These maintenance-free 'open' systems do not need to be linked to the engine management systems, so the installation can be processed by Ford dealers with ease.
Availability of Motorcraft 'Retro-Fit' DPF for Transit, build phase 5/2006 to 10/2008:
2.2 l TDCi, 85 PS/63 kW (Euro 4) 2.2 l TDCi, 110PS/81 kW (Euro 4) 2.2 l TDCi, 130 PS/96 kW (Euro 4) 2.2 l TDCi, 140 PS/103 kW (Euro 4) 2.4 l TDCi, 100 PS/74 kW (Euro 4) 2.4 l TDCi, 115 PS/85 kW (Euro 4) 2.4 l TDCi, 140 PS/103 kW (Euro 4)