Aston Martin Racing is the Current Leader in Both Classes at 2015 Le Mans 24-Hours

We already told you about the numerous preparations, that Aston Martin did before the start of 2015 Le Mans 24-Hours. The team really had lots of things to improve and engineers worked hard for incredible amount of time until the last minute before the race. And as always, good work and well-made preparations pay well at the end.
Now, at the halfway mark on the track of world's toughest race, Aston Martin Racing team is leading in both GTE classes. Let's see what happened.
Vehicle #99 Hanergy-liveried Vantage GTE went in for a wheel-to-wheel fight with #64 Corvette at the front of the GTE PRO class, while #98 Gulf-Livered vehicle leads the GTE AM class with the incredible one-minute gap.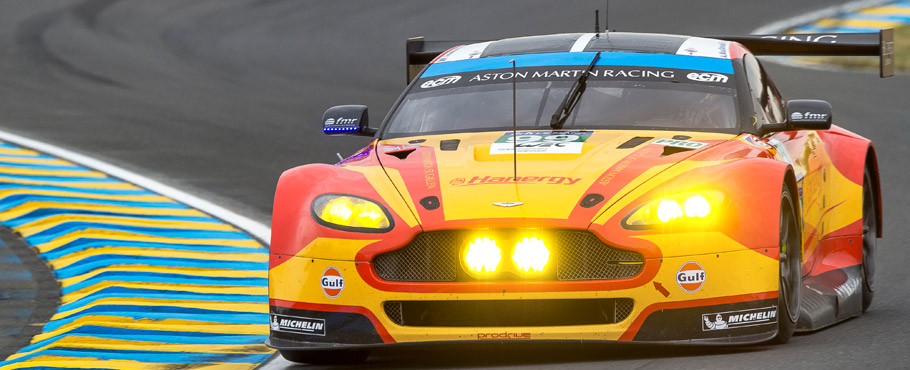 Furthermore #95 Vantage GTE made it on sixth position in GTE PRO, after it spent some time in the pits and the #96 Vantage lost some precious time due to an incident and finished in 12th position in GTE AM.
Sadly, along with the good results by Aston Martin Team, there is also a disappointment. #97 Vantage GTE had some serious technical issues, that caused it to finish on second place in GTE PRO.
And here we remind you the 2015 Le Mans 24-hour Aston Martin vehicles and their drivers:
#99 – Fernando Rees, Alex MacDowall, Richie Stanaway
#98 – Pedro Lamy, Paul Dalla Lana, Mathias Lauda
#97 – Darren Turner, Stefan Mücke, Rob Bell
#96 – Stuart Hall, Francesco Castellacci, Roald Goethe
#95 – Marco Sørensen, Nicki Thiim, Christoffer Nygaard
For further information stay with us!
Source: Aston Martin