What changes did Audi make to its 2017 Model Year lineup? Here are the details [pricing included]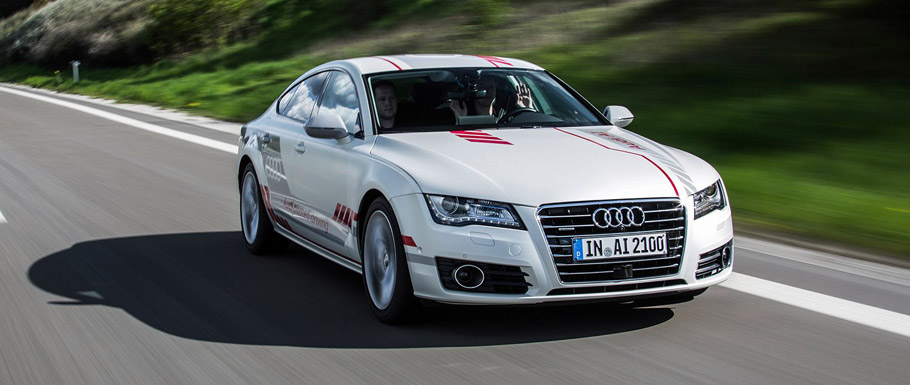 Audi has made full model line improvements for its vehicles from 2017 Model Year, offering better looks for the interior, exterior, more personalization options, additional smartphone interface, technology packages, and more. The pricing has been also officially announced, and here are the details.
2017 Audi A5/S5 Coupe and Cabriolet
Changes for the duo include standard S line competition plus exterior elements, and if your car is equipped with a Tiptronic® transmission it will also get a 3-spoke flat-bottom steering wheel with shift paddles. Rear parking sensors come with the starter's pack, too.
SEE ALSO: Have you heard about the Audi R8 V10 plus selection 24h? It is the perfect version of the most powerful Audi
As an option, customers can now order the Convenience package, which comprises of heated front seats with driver memory, Audi advanced key and auto-dimming exterior mirrors. In addition, a Black optic package can be ordered for the A5 Coupe Sport models. It features 19" Audi Sport 10-spoke-Y design gloss black finish alloys and gloss black exterior mirror housings and grille surround.
2017 Audi A6
The A6, one of the most popular models out there, receives refreshed exterior, improved in-vehicle infotainment, smartphone interface and also gets the S line as a standard. Very cool standard feature are the 18-inch 10-spoke-V design wheels. When it comes to the optional goodies, the A6 gets a Sport package with 19-inch 10-spoke wheel as well as a Black optic package with 20-inch 5-arm-star wheel in a black polished finish.
In terms of interior, the A6 benefits from S sport Valcona leather seats with diamond contrast stitching and a flat bottom steering wheel with shift paddles. The exterior is now sportier due to the addition of the standard S exterior, black mirror housings, 20-inch 5-double-spoke titanium wheels and red front and rear brake calipers. However, the major improvement for the 2017 A6 is the updated 3.0T engine, which produces 340 hp and 325 lb-ft of torque.
2017 Audi A7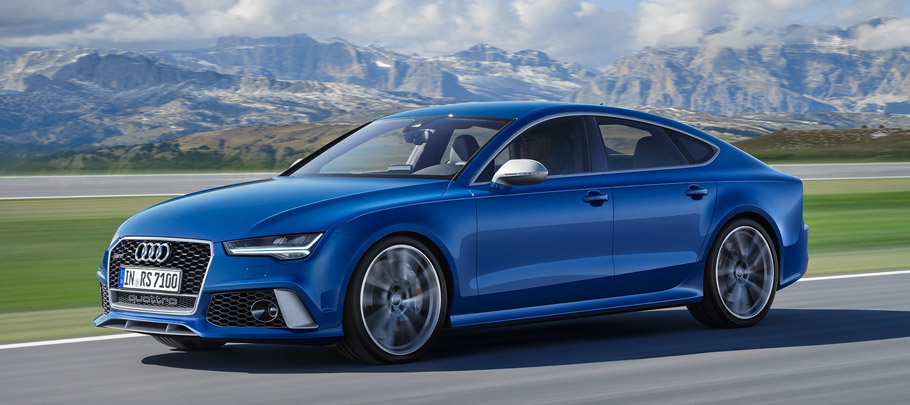 A7 and S7 get the new Audi smartphone interface, BOSE Surround Sound and 19-inch 5-spoke-V-design wheels as a standard. The A7 3.0T competition model is now proud owner of a standard S line exterior, red brake calipers and 20-inch 5-double-spoke titanium wheels.
The optional Premium Plus trim level adds 20-inch 5-parallel-spoke-S design wheel. The opther optional pack is the S7 Sport package which comprises of 21-inch 5-arm-Rotor titanium wheel, Black optic package and red front and rear brake calipers.
2017 Audi A8
A8 is as pretty in MY 2017 as in other years. It will be offered however only in its A8 L (long-wheelbase) variant. When ordered with the Sport exterior styling, it will be equipped with the 3.0T 6-cylinder engine. The available Black optic package on 3.0T and 4.0T models adds black exterior accents, darkened taillights and 20-inch 5-double-spoke wheels with titanium finish.
Another pack is called Executive and it includes advanced driver assistance features, Audi side assist and Audi pre sense rear. The flagship sedan, the S8 plus, comes equipped with a 4.0T 8-cylinder producing 605 hp and 553 lb-ft of torque. The car also includes new interior design options like the black leather seats with Arras red stitching.
2017 Audi Q3
The "tiny" Q3 crossover will come as a standard with the Premium entry-level trim level. This means that it will offer many standard features like the power front seats, panoramic sunroof and LED taillights and DRLs. The optional Premium Plus models are equipped with heated, power folding exterior mirrors with driver auto-dimming, and a power tailgate with a programmable preset opening.
Another availability is the Sport plus package adding the Sport interior package with Audi drive select, front Sport seats and a 3-spoke multifunction steering wheel with shift paddles, 19-inch 10-spoke titanium matte alloys. The Black optic exterior pack contrasts with black Singleframe grille, black roof rails and black window surrounds.
2017 Audi Q5
The Q5 is probably the most successful car among the SUVs in Audi's range. Of course, it also gets more standard equipment, like the 3-spoke multifunction steering wheel with shift paddles, Audi drive select and adaptive cruise control.
The 3.0T, SQ5 comes a standard with dynamic steering. Also optional is the new Black optic plus pack adding matte black rear diffuser and high-gloss black rear spoiler, door handles and exterior mirror housings. Audi's Q5 2.0T Premium Plus models will now ride on 19" 5-arm-star-design wheels shod with all-season tires. And this is as standard.
2017 Audi TT Coupe and Roadster Model Line
At last but not least, the 2017 TT and TTS feature updated exterior and interior, camera and auto-dimming, power-folding side mirrors. Optional packages include Black optic pack with black Singleframe grille surround, black exterior mirror housings and 19-inch 5-double spoke titanium finish alloys. The black optic pack has been created for the TTS only. It adds black rear diffuser and 20-inch 5-V-spoke design titanium finish alloys.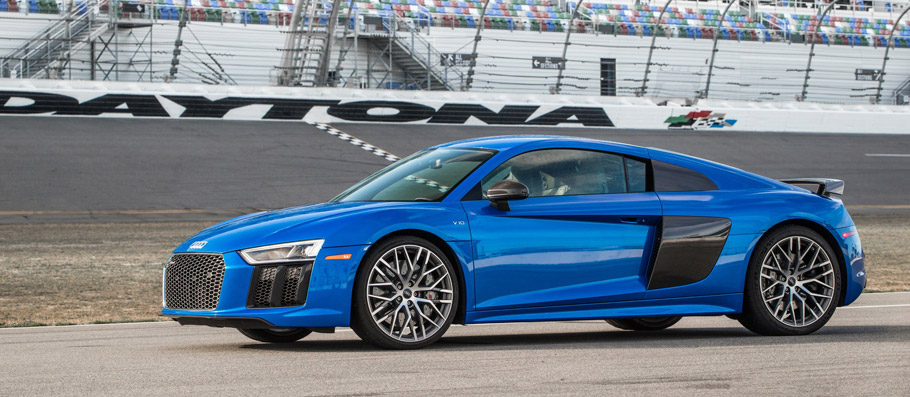 Audi 2017 Model Year Lineup US Pricing
| | | | | | | |
| --- | --- | --- | --- | --- | --- | --- |
| Model | | | Premium | Premium Plus | Prestige | Single Trim |
| | 2.0T | S tronic FWD | $37,300 | $41,100 | $45,900 | / |
| | 2.0T | S tronic q | $39,400 | $43,200 | $48,000 | / |
| | 2.0T | Tiptronic q | / | / | / | $48,600 |
| | 3.0T | S tronic q | / | / | / | $61,100 |
| | 2.0T | Tiptronic q | / | / | / | $42,200 |
| | 2.0T | Man q | / | / | / | $41,200 |
| | 3.0T | S tronic q | / | / | / | $54,100 |
| | 3.0T | Man q | / | / | / | $53,100 |
| | 2.0T | S tronic FWD | $47,600 | $51,600 | / | / |
| | 2.0T | Tiptronic q | $49,800 | $53,800 | / | / |
| | 3.0T | Tiptronic q | / | $58,600 | $61,600 | / |
| | 3.0T | Tiptronic q | / | / | $67,600 | / |
| | 4.0T | S tronic q | / | $70,900 | $74,100 | / |
| | 3.0T | Tiptronic q | / | $68,800 | $71,350 | / |
| | 3.0T | Tiptronic q | / | / | $76,550 | / |
| | 4.0T | S tronic q | / | $79,900 | $82,900 | / |
| | 4.0T | Tiptronic q | / | / | $110,700 | / |
| | 4.0T | Tiptronic q | / | / | $129,500 | / |
| | 3.0T | Tiptronic q | / | / | / | $82,500 |
| | 4.0T Sport | Tiptronic q | / | / | / | $91,500 |
| | 4.0T | Tiptronic q | / | / | / | $115,900 |
| | 2.0T | Tiptronic FWD | $31,800 | $34,500 | $39,200 | / |
| | 2.0T | Tiptronic q | $33,900 | $36,600 | $41,300 | / |
| | 2.0T | Tiptronic q | $40,900 | $43,150 | / | / |
| | 3.0T | Tiptronic q | / | $46,400 | $53,200 | / |
| | 3.0T | Tiptronic q | / | $53,300 | $60,800 | / |
| | 3.0T | Tiptronic q | $54,800 | $58,800 | $64,300 | / |
| | V10 | S tronic q | / | / | / | $162,900 |
| | V10 plus | S tronic q | / | / | / | $189,900 |
| | 2.0T | S tronic q | / | / | / | $43,500 |
| | 2.0T | S tronic q | / | / | / | $52,500 |
| | 2.0T | S tronic q | / | / | / | $47,000 |
Source: Audi