2014 Audi A3 e-tron Delivers Efficiency And Innovation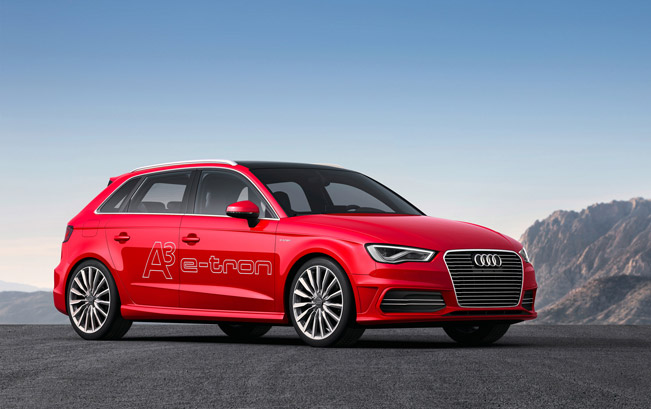 2014 Audi A3 e-tron which will have a premiere in Geneva has an "electrified" drivetrain thanks to a plug-in hybrid technology. With 150 kW (204 hp) of system power and 350 Nm (258.15 lb-ft) of system torque, sporty performance is guaranteed.
Further details are that the car has a top speed of 222 km/h (137.94 mph), and sprints from 0 to 100 km/h (62.14 mph) in 7.6 seconds. The five-door model consumes on average just 1.5 liters of fuel per 100 km and has CO2 emissions of 35 grams per km (56.33 g/mile).
When it operates in electric mode, the Audi A3 e-tron reaches a top speed of 130 km/h (80.78 mph) and has a maximum range of 50 km (31.07 miles). The combustion engine is a modified 1.4 TFSI that generates 110 kW (150 hp).
Moreover, a clutch links the TFSI to an electric motor with an output of 75 kW. The latter is integrated into a newly designed six-speed e-S tronic, which sends the power to the front wheels. It is important to mention that both motors work in cooperation. The electric one deliver a peak torque that starts from around 2000 rpm, and the TFSI's maximum pulling power is available in a range from 1,750 to 4,000 rpm.
Of course, this Audi model can be driven with just the combustion engine, just the electric drive or in hybrid mode. In addition, the driver can choose to have both powerplants active at the same time ("boosting"). On the other hand when he or she lets up on the accelerator, they both deactivate temporarily ("gliding") thus motor braking torque is eliminated and efficiency is enhanced.
Source: Audi