Audi A5 and S5 Coupes have just made their world premiere at company's headquarters in Ingolstadt. The event was celebrated with a spectacular 3D light show in which both of these cars demonstrated their sporty elegance and new capabilities. The new design of the models is visible at first glance. In addition, Audi has made thorough revisions to the interior and have added more standard and optional technology features.
The first big change is that the Audi A5 and S5 Coupes are now with two-doors only. They also carry the sportiest proportions in the car segment they are positioned: 4.67 meters (15.4 ft) long and 1.37 meters (4.5 ft) high. What makes the A5 even more distinctive are the wide, flat Singleframe, the Matrix LED headlights, the wavelike side lines and the flared wheel arches. Bringing it closer to the racing heritage are the exterior mirrors are placed on the door top shoulders.
SEE ALSO: Audi Reveals Refreshed Styling for the A3 and S3 Lineup
Furthermore, the modes also include entirely revised steering features, greater torsional rigidity, newly designed suspension with damper control and by far the best aerodynamics and aeroacoustics compared to any of its predecessors.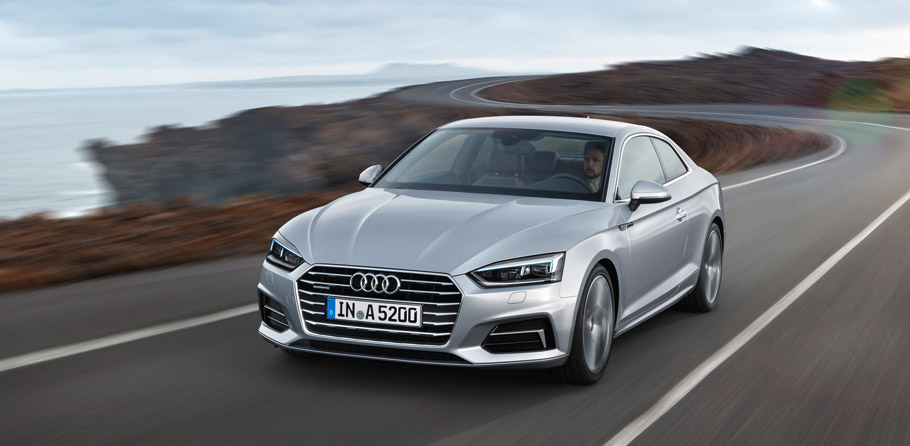 In terms of power, there are two TFSI and three TDI engines, with outputs ranging from 190PS to 286PS. They are up to 17 per cent more powerful and as much as 22 per cent more efficient than before. A six-speed manual transmission drives the front axle, but there is an option to equip the Audi with seven-speed dual clutch transmission or eight-speed torque-converter transmission. The latter is offered on the A5 for the first time. If one wants an all-wheel drive car then they should opt for the quattro drive system, which is optional.
At the top of the range is positioned the S5, powered by the V6 engine, which produces 354 hp (260 kW) and 500 Newton meters (368.8 lb-ft) of torque. This sends the speedometer from 0 to 100 km/h (62.1 mph) in just 4.7 seconds! What is more, due to the addition of S sport suspension, the S5 sits even closer to the ground.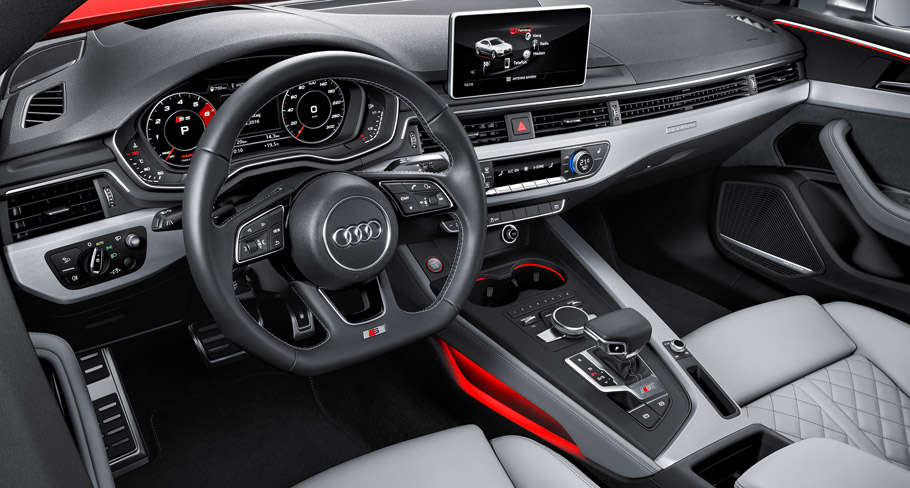 The inherent power of the model is highlighted within trim's exterior: there is an S5 logo with a red rhombus on the flanks, grille and tailgate. The same logo is also found inside: on the welcome screen on the MMI display, the chrome trim and door sills.
Speaking of the interior, the highlights here are the seats with massage function and the steering wheel heating, the three-zone climate control, the electrically extending and retracting seat belt feeders, 3D sound system and a large, panoramic glass roof.
The latest variants of Audi A5 and S5 Coupe have just rolled-off the assembly line and will be available on the market this fall.
Source: Audi