Audi F12 Prototype or a R8 with 204HP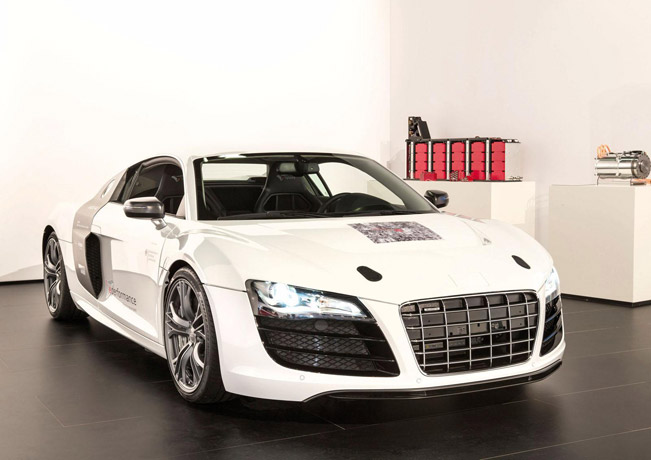 Audi has announced a strange car – F12 Prototype, which is actually a R8 but with an electric motor. The sports electric car comes a 38 kWh battery and three motors with a combined power of 204HP (150 kW) and 550Nm (406 lb-ft) of torque.
When the car goes at low speeds, only the front axle is powered by a single electric motor and on high speeds or fast acceleration – the two rear motors are activated for full power and control.
"Our team united engineering art, creativity and a portion of lateral thinking," said Dr. Christian Allmann, one of the project managers.
"Young, independent free-thinkers worked together with the experts from the Technical Development departments at Audi and Bosch. We enjoyed a constant sharing of our respective knowledge and different work cultures." "The project was very dynamic with respect to personnel and technologies, resulting in a very flexible collaboration with open interfaces," added Martin Schüssler, Allmann's colleague.
The F12 driver controls basic drive functions - Park, Reverse, Neutral and Drive - by operating buttons on the center tunnel. All other operations are controlled via a tablet computer that can be removed from the center console. A user-programmable instrument cluster presents all key information in high resolution.
The car is actually planned for production, but nothing is sure for now.
Source: Audi