Audi Prologue Concept Car Officially Revealed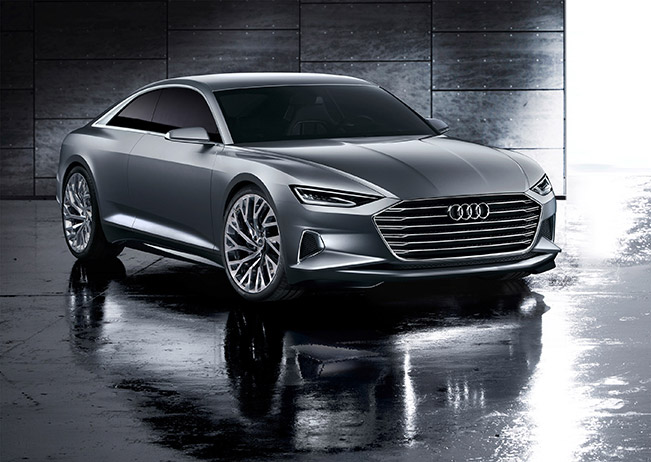 Audi Prologue Concept is finally revealed at the 2014 LA Auto Show. With the new Prologue Concept car comes a new age in the automotive world. This car is set to establish new tendencies which will be conducting the design of Audi for the future. The remarkable shape, exclusive lines, sportiness and excellent quality form a car that builds the backbone of Audi's lineup.
The show car's technology represents a mixture of power, efficiency and convenience. It is powered by a 4.0 TFSI engine which generates up to 605 PS of power and 750 Nm (553.2 lb-ft) of maximum torque. The car speeds up from 0 to 62mph in 3.7 seconds. Its dynamic all-wheel steering, in which the rear wheels can turn up to five degrees, makes the large couple really stable and highly responsive while it is driven. The show car is capable of returning to 32.8 mpg combined, which is equal to CO2 emissions of 199 grams per kilometer.
One of the most significant elements at the low front end is a Singleframe grille which depicts the emblem of Audi. The radiator grille has gone through some changes too. Widened up, it is positioned lower than on the current production models. Audi Prologue Concept has a strong horizontal effect that is an embodiment of power and powerful dynamics. The vehicle benefits from 22-inch wheels which are set in widely flared wheel arches. They are fitted with 285/30 size tires.
The Gran Turismo based interior is what really stands for innovative design that will set the benchmark of Audi's future models. It is luxurious, stylish and communicates technological advancement. There is a generous open space that allows ultimate comfort. The car's virtual cockpit organizes the information on a different and innovative level makes it more easily accessible and comprehensible.
Source: Audi