Audi Q3 Red Track
News from Audi as a Q3 concept has appeared which suspiciously looks munch like the Vali Concept we saw earlier this year. At the very least, this new one is also red... If not even redder. So red in fact that Audi have called it the Red Track. It's a themed contribution to the Wörthersee Tour that starts in May 16th – a populiar Volkswagen and Audi show.
As we said, red, or Energy Red, is the predominant theme in this one. We suspect that Audi dipped the whole Q3 Red Track in pant since even the cylinder head cover has traces of red on it. Inside, it's pretty much the same story with added ultra-leather-nappa-aluminum-luxury. The uphostery boasts red piping with double seams and red stitching. Patches from it are made of red Velvet leather. Same segments can be found on the doors as well, despite them being generally in steel gray Nappa leather. The headlining is also gray, but made from Alcantra. The instrument panel is barraged with aluminum which sticks out nicely from the overall tone of the again Nappa material that covers it.
Enough about fabrics though as we feel an allergy coming. How about the more healthy aspects of the Red Track such as the engine – a good dose of 340 hp coming from a 2.5-liter, five-cylinder TFSI petrol unit – tremendous but then again, it should be as all of that goes to all the four wheels (permanently) trough a seven-speed S tronic transmission. In other words: zero to sixty mph in 5.4 seconds, top speed – 163 mph and naturally an upper edge on the uncharted territories. (why else would it flare it's arches so flamboyantly?).
Obviously, when designing the Q3, the Audi engineers and masterminds had the Alps as an image in their heads. Overcoming the natural obstacles that mother nature has in store.... with flash lights and hot coffee. No, seriously. At the luggage compartment, on one of its side, there's a station designated for storing and charging flashlights while a thermos canister can be found within the cup holder that's in between the front two seats. Then there are the roof rails which look like completely ordinary (aluminum maybe) but Audi say they are specifically designed to carry a set of skis.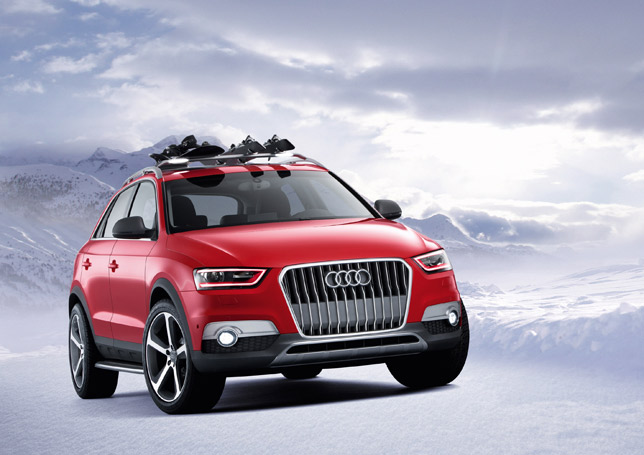 Source: Audi