Audi Q3 Vail Concept
Audi has unveiled the Q3 Vail Concept in Detroit. The vehicle will share the limelight with the new generation Audi A4 at the North American International Automobile Show (January 14-22), and will combine striking, harder-edged styling with a suitably brawny 2.5-litre TFSI petrol engine delivering extreme power.
The Q3 Vail Concept is developed for young fans of winter sports who love skiing or snowboarding. It is finished in Energy Red with golden pearlescent particles. The colour is really striking, especially when it is combined with matt grey quartz-based paint for some elements.
Vertical bars made from aluminium are integrated in the single-frame grille. They extend across the full height of the grille.
The struts feature a bi-colour theme developed specifically for the Q3 Vail: their lateral edges are painted in matt quartz-based paint, and the slim front faces have a high-gloss finish.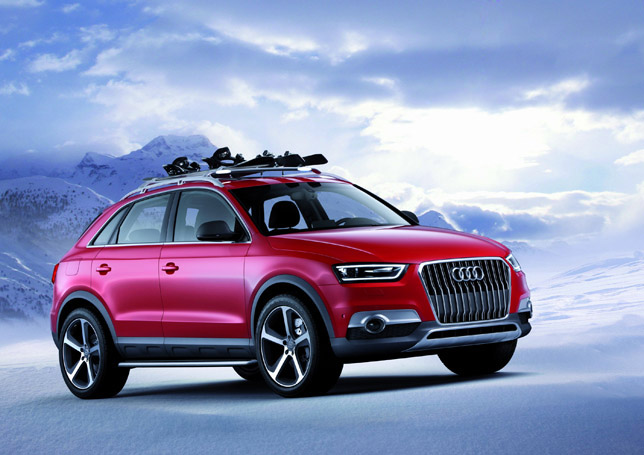 In the headlights the zones in the lower area of the light-guide elements, which generate the daytime running lights, are painted anthracite. The side air inlets further emphasize the themed vehicle's powerful appearance; their top areas are covered by solid aluminium panels. The underbody guard beneath the front end is also made from aluminium.
The Audi Q3 Vail is powered by a 2.5 litre five-cylinder TFSI engine with direct injection and turbocharging - 314PS (231 kW) and 400Nm (295 lb-ft). The performance is superb – 0 to 100 km/h in 5.5 seconds and a top speed of 262 km/h (163 mph).
The Q3 Vail stands on 255/45 section off-road tyres and 20" five-arm wheels whose visible edges have a high-gloss finish which mirrors the single-frame grille. Track width has increased by 40 mm at the front and rear compared to series production models, and the body is 30 mm higher. At the rear, the two tailpipes of the dual-branch exhaust system are integrated into the diffuser and underbody guard area.
The interior of the Audi Q3 Vail has a fittingly sporty black, grey and red colour scheme. The headlining is made from titanium grey Alcantara; large parts of the interior, including the carpet, are black. The black, ribbed floor mats are edged with narrow strips of red velvet-finish leather.
Source: Audi