Audi Exclusive Shows One-Off RS 4 Avant Peridot Metallic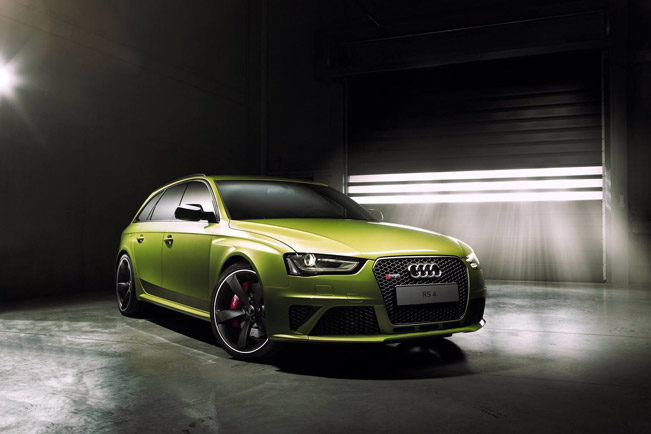 Audi Exclusive has unveiled online the unique RS4 Avant finished in exclusive Peridot Metallic paint finish. The car has been prepared for a private customer, who has paid extra money to get their RS4 Avant customized. The customizing division of the automaker has released a set of images, which you can view below, but didn't leave any words on what it has done. The highlight was put on the on-off paint finish, but as we can see there is more that the specialists have done.
Another striking design feature, which immediately catches the glance, is the matte black alloy wheels. In black are decided the mirror caps, grille frame and tailpipe surrounds. The Peridot theme is also found in the interior, and it is visible in the door panels, center console and leather/Alcantara seets with Peridot green shells.
Even the stitching is in the same shade. The same color is also present in the stitching, while the Audi Exclusive badging is what rounds out the cabin of the RS4 Avant.
There is no information on engine modifications, so this means that the engine is the standard 4.2-liter V8, which produces 450 horsepower (444hp) and 430 Nm (317 lb-ft) of torque. It is coupled with a seven-speed dual-clutch transmission and features a quattro all-wheel drive system.
This enables the car to cover the acceleration sprint from 0 to 100 km/h in 4.7 seconds before reaching the top speed of 280 km/h (174 mph). The combined fuel consumption is estimated at 10,7 l/100 km, while the CO2 emissions are at 249 g/km.
Source: Audi