2014 Audi RS 5 DTM Getting New Color Scheme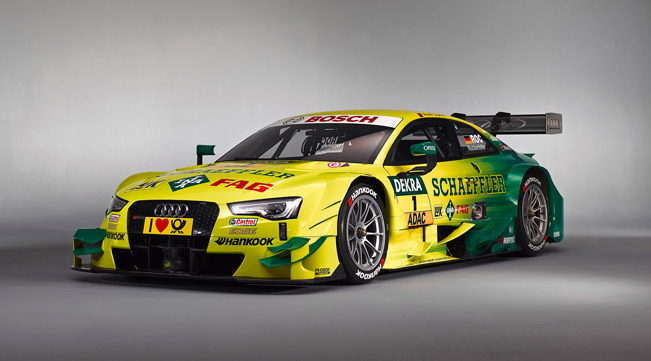 The new Audi RS 5 DTM is getting a brand new livery, called Schaeffler. The car will be driven by the Champion Mike Rockenfeller, who aims to defend his title. Precisely, the 2014 DTM car made its debut in Geneva last week.
It includes newly developed aerodynamics and many detailed improvements underneath its carbon fiber skin. The Schaeffler Audi RS 5 DTM is the first of the total of eight liveries with which the brand is going to compete in the DTM in 2014.
Here, the basic colors of 'Rocky's' car have been kept. Nevertheless, the body contours of the near-460 hp (340 kW) touring car are now even more dynamic than before. At first glance the new Audi RS 5 DTM appears more aggressive. The reason for this is the complete re-development of the aerodynamics.
Next, the suspension was also redesigned as well as a honeycomb grill was included at the front. New air ducts feed the engine and brakes. The exterior mirrors were integrated into the aerodynamic concept and have a new and very interesting form. Look at the carbon used there as well!
Source: Nissan