Geneva Motor Show: Premiere For Audi RS 5 DTM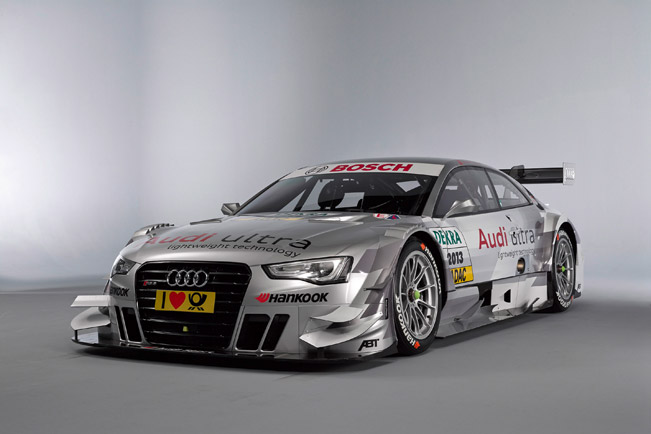 At the Geneva Motor Show was just presented the racecar for the DTM 2013 – the exceptional Audi RS 5 DTM. Model's technical specifications are matching all of the regulations demanded.
Although the car's specifications for the 2012 season were perfect, there were also made some additional development, butt only in limited form. Over the winter, the Audi Sport DTM team put its attention on identifying if any of the 4,000 components in the racecar from the 2012 season offered any potential for optimization.
The name of the model is also new. This Audi motorsport car also establishes a direct reference in the DTM to the company's successful production models. In addition the abbreviation 'RS' stands for the sportiest Audi models. In fact, the performance data of the current RS 5 and RS 5 DTM are very similar, hence the Audi RS 5 DTM was born.
To go further into detail, eight examples of th RS 5 DTM will take part in the grid for the 2013 DTM. They are fielded by the three proven Audi Sport squads Abt Sportsline, Phoenix and Rosberg. The drivers have been also selected. Among them is one newcomer - Jamie Green from Great Britain, who will join DTM Champion Mattias Ekström (Sweden) at Audi Sport Team Abt Sportsline.
The most successful driver combination in the entire DTM 2013 field were Ekström and Green, who achieved 25 race wins and two championship titles. Additionally, nine DTM race wins are attributed to the other Audi driver teams which have remained almost identical since the 2012 season: the double DTM Champion Timo Scheider (Germany) and Adrien Tambay (France) compete for Audi Sport Team Abt, Miguel Molina (Spain) and Mike Rockenfeller (Germany) for Audi Sport Team Phoenix, Filipe Albuquerque (Portugal) and Edoardo Mortara (Italy/France) for Audi Sport Team Rosberg.
On 5th of May is when the new DTM season starts, and here are already known ten events, six of which are in Germany. The other will be held in Austria, Great Britain and the Netherlands and in Moscow. Audi RS 5 DTM will appear officially in public for the first time at the DTM test between 19th and 26th of April 26 and 29 in Barcelona and from 9th to 12th of April in Hockenheim, where a grandstand is open for spectators on the first day.
Source: Audi