Audi S7 Spot on 2012 Super Bowl
The Super Bowl is as much about the commercials as it is for the football itself. So for the fifth consecutive year, Audi will air a :60 spot during the first quarter of the Super Bowl with focus landing on LED technology. The San Francisco-based Venables Bell & Partners studio is in charge with the creative ad. The only other known fact is that the 2013 Audi S7 sedan will also be somehow featured. The rest can be seen on Sunday, Feb. 5, 2012 when the big game starts.
LED usage in headlights first started appearing on Audi's 10 years ago and the effect on the market since then has been tremendous – virtually every other car maker now offers LED with their latest products. Today, Audi LED lights are efficient and elegant. Traditional lights take 0.2 seconds to engage while LEDs are immediately activated making driving safer, faster. In addition to safety, LED lights save resources by using 50-percent less power required from the alternator – which in turn reduces the load put on the vehicle's engine – and can last the lifetime of a vehicle.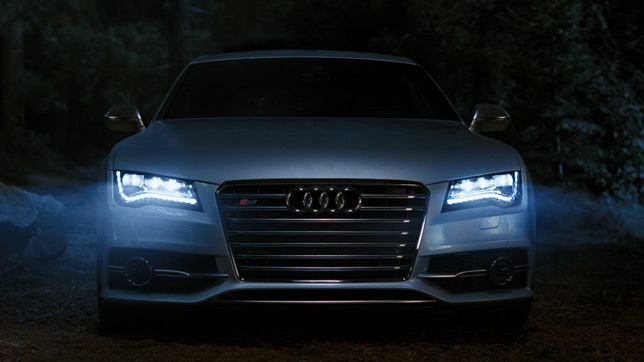 The new Audi S7 is also efficient and elegant with the sleek profile of a coupe and the four doors of a sedan. Standard technology includes Audi connect™  which enables you to browse Google Maps™ and Google Search™ and provides for you a Wi-Fi® hotspot. Hope that connection is fast enough to keep up with the S7 for under the hood lays a 4.0 TFSI 420 hp/406 lb-ft of torque masterpiece which will take you anywhere you want in a matter of seconds.
Past Super Bowl spots on Audi have included the A8, the "green car of 2009" A3 TDI and the legendary R8 and they have all been pretty good. Can't wait to see what Venables Bell & Partners have come up with this time.
Source: Audi