Audi Takes to the Race Track with the Sportiest Piloted Driving Car Worldwide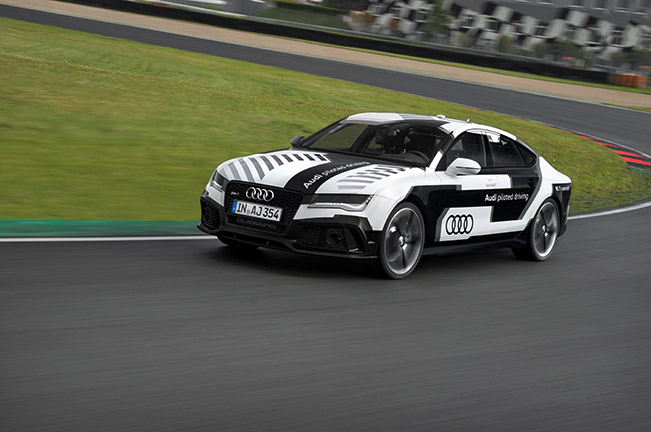 Audi impressed the world with the sportiest piloted driving car which it has developed. After the amazing performance by the Audi RS 7 piloted driving concept at the German Touring Car Masters (DTM) season finale which took place in Hockenheim, the ground-breaking technology platform is now demonstrating what it really stands for on the challenging circuit of the Ascari Race Resort – at racing speed, without a driver!
Due to its 560 hp and a top speed of 305 km/h (189.5 mph), the piloted driving concept car signifies Vorsprung durch Technik. On the track in Hockenheim, the RS 7 piloted driving concept reached a maximum 240 km/h (149.1 mph), while its top speed in Ascari is 205 km/h (127.4 mph). The Ascari circuit displays even greater challenges for the technology of the Audi RS 7 piloted driving concept because of its ascents, descents, tight chicanes and banked bends.
This race track provides the Audi engineers a chance to get a glimpse of their production development. Precisely, it offers insights into the development of automatic avoidance functions in critical driving situations.
The Audi RS 7 piloted driving concept car represents a technology platform which shows the technical advancements of Audi. The large, five-door coupe's electro-mechanical power steering, the brakes, the throttle valve and the eight-speed tiptronic that distributes the power to the mechanical quattro drive system are controlled automatically.
The technology platform uses specially corrected GPS signals for orientation on the track. Control of the vehicle at the handling limits is another outstanding feature of the Audi RS 7 piloted driving concept car.
Source: Audi