B&B Boosts Audi R8 V10 Plus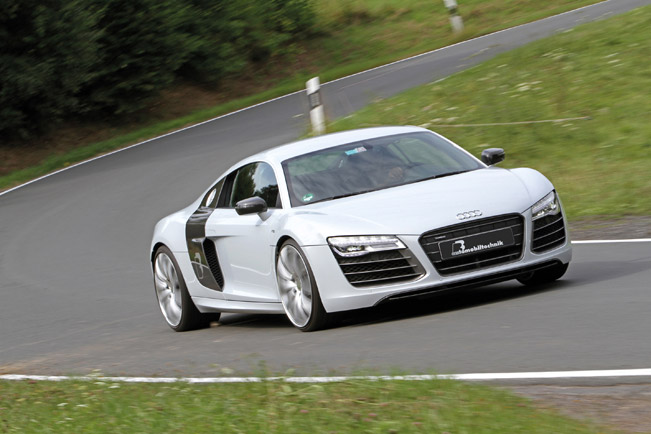 The tuning experts of B&B Automobiltechnik have lately devoted their selves to the development of an upgrade for the top model of the current R8 series. This Audi model was introduced to the market in the past year and features a powerful V10 engine.
Speaking about the unit, it can produce the exhilarating 550 horsepower (405 kW) and 540 Nm (399 lb-ft) of torque. Nonetheless, this wasn't enough for the tunes and they have raised the standards via a three-stage performance boost.
First, the performance and torque was boosted to 595 hp (438 kW) and 560 Nm (413 lb-ft) in the "small" Stage One. The Second Stage gives the R8 610 hp (449 kW) 570 Nm (421 lb-ft). At last, the final upgrade Stage Three is called "BB R8 M20/3" and boosts the V8 up to 628 hp (462 kW) and 585 Nm (432 lb-ft). All this power is transferred onto the road via the 7-gear S-tronic double clutch transmission.
Other modifications that unfold this power were also done, for instance on the ignition and injection system as well as the intake channels and air ducts. In addition, also installed were the B&B's racing exhaust system made of stainless steel and B&B carbon special air filters.
Of course, these upgrades can only lead to better on-road performance. The four-wheel racer accelerates from 0 to 100 km/h in just 3.2 seconds and beats the magical 10-seconds sonic barrier in 9.6 seconds in the 0-200 km/h sprint. The top speed is 328 km/h.
B&B racing chassis that is adjustable from 20 to 40 millimeter was combined with light alloy wheel rims of size 9x20 on the front axis and 11x20 inches on the rear. The latter were matched with rubber rollers of the dimension 235/30R20 and 305/25R20 in front and rear, respectively.
Source: B&B Automobiltechnik