Bentley Mulsanne Convertible Concept Sketches Revealed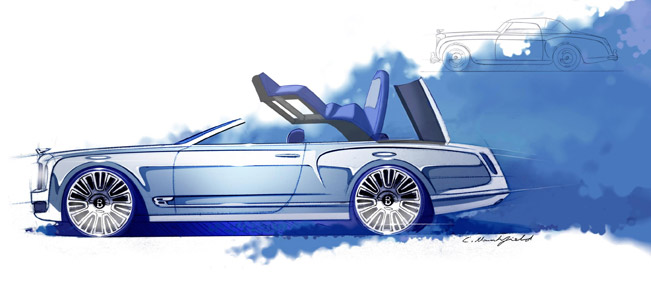 Bentley Mulsanne debuted back in 2009. Since then it is a pure example of coach-built elegance and hand-crafted luxury with immense power and sportiness. Now the luxury British brand is coming out with a concept in mind and it is namely the Bentley Mulsanne Convertible Concept.
Unfortunately, Bentley hasn't released any actual images of the concept except for some sketches, which by the way give enough to the imagination of how incredible this car would look like.
The aim is for the Mulsanne Convertible Concept to be the world's most elegant and sophisticated convertible, providing a supremely powerful and refined luxury grand touring experience for four persons.
The form of the new Concept combines sportiness and elegance, and its sculpted lines and muscular haunches convey a sense of power and movement. The interior includes a spacious but yet intimate cabin, which was inspired by luxurious, high-performance power boats.
Mulsanne Convertible Concept will further sustain Bentley's position as the most undisputed benchmark in handcrafted automotive luxury, thanks to its contemporary design, sumptuous materials, painstaking attention to detail and supreme refinement.
Source: Bentley