2012 Bentley Mulsanne Diamond Jubilee Edition brings even more luxury
2012 Bentley Mulsanne Diamond Jubilee Edition is a model which Bentley Motors has produced in order to celebrate The Queen's Birthday and her Diamond Jubilee year.
The model is designed with great precision, perfection and craftsmanship. From it will be produced only 60 examples.
What is very characteristic about these models is that they are distinguished by a range of exquisite, handcrafted features. For instance some of them bespoke embroidery to all four headrests with gold stitching, veneered picnic tables in the rear cabin decorated with a gold overlay depicting a royal carriage used for great occasions of state as well as luxurious, hide cushions featuring the same motif.
In addition to this these special models also include two beautiful, highly-polished stainless steel treadplate plaques featuring the famous 'Bentley Mulliner, England' script and 'Diamond Jubilee Edition'.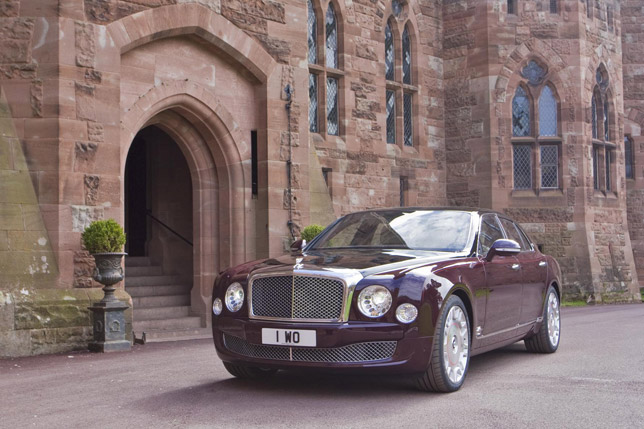 Furthermore, the Diamond Jubilee Edition vehicles include a spectrum of paint and hide colours that set them apart from other Bentleys and which stylishly uses various combinations and shades of red, white and blue. Hand-applied Single Fine Lines with the same three colours can be seen on two distinctive Bentley 'B' badges positioned on each 'D' pillar.
In particular, Bentley Mulsanne incorporates the source of the Bentley marque. It shows elegance and yet it is sporty in heart. It delivers effortless performance, while within its sumptuous cabin, advanced technology sits discreetly with handcrafted luxury.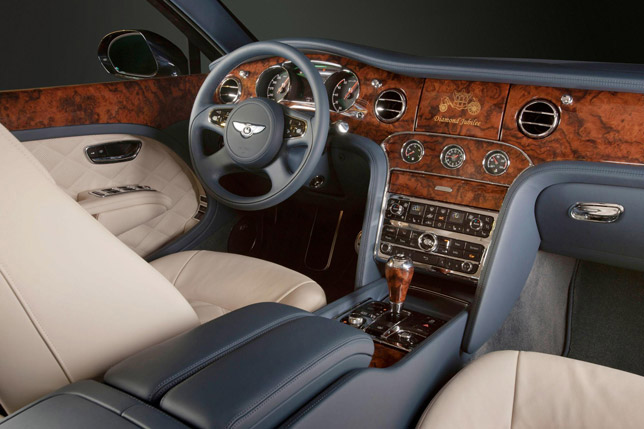 2012 Bentley Mulsanne Diamond Jubilee Edition overview and features:
• Twin-turbocharged, 6.75 litre V8 engine
• Power: 512 PS / 505 bhp / 377 kW at 4200 rev/min
• Torque: 1020 Nm / 752 lb ft at 1750 rev/min
• 0-60 mph in 5.1 secs (0-100 km/h in 5.3 s)
• 0-100 mph in 11.6 secs (0-160 km/h in 11.5 s)
• Max Speed: 184 mph (296 km/h)
• 21" Classic Alloy Wheel
• Flying 'B' Radiator Mascot
• Jewel Fuel Filler Cap
• Bright Stainless Steel Matrix to Lower Bumper Apertures and Wing Vents
• Six paint options including – Beluga over Claret (duo tone), Black Sapphire, Claret, Pale Sapphire over Black Sapphire (duo tone), Pale Sapphire, White Sand
• Hand-applied fine lining
• Bentley 'B' badges on 'D' Pillar
• Burr Walnut Veneer
• Two Plain Hide Loose Cushions with 'Diamond Jubilee' Embroidery
• Diamond Quilted, Perforated Seat Inserts & Door Panels
• Lambswool Rugs (in addition to standard overmats)
• Veneered Gear Lever
• Veneered iPod Drawer & Minor Gauge Panel
• Diamond Jubilee Overlay to Fascia & Picnic Tables
• Ambient Interior Mood Lighting
• Rear Quarter Vanity Mirrors with Veneer Surround
• Drilled Alloy Sports Foot Pedals
• Seat Ventilation & Massage to Front & Rear Seats
• Rear Seat Entertainment Package
• 'Naim For Bentley' Premium Audio System
• Hide colours – Linen, Burgundy and French Navy
• Personalised Embroidery with Gold Thread
Source: Bentley