2014 Bentley Mulsanne With Enhanced Specifications [VIDEO]
The next-generation 2014 Bentley Mulsanne has just been exclusively unveiled. It will make an official first appearance at the Geneva International Salon d'Auto in March and will be available for ordering from April.
The facelifted includes new Comfort Specification which is featuring comfort headrests, footrests, duck down filled loose cushions and privacy curtains. Furthermore the design incorporates Bentley Winged Emblems, but also bespoke stitching or piping.
As a standard in this specification is now featured a new rear door armrest storage compartment, which can conveniently serve as a place for mobile phones, personal items or Bluetooth headphones for Rear Seat Entertainment.
There is also available an Entertainment Specification which in turn includes the latest in technological developments, picnic tables designed for an iPad and wireless keyboard. This means that the cabin of the Mulsanne will literally become a Wi-Fi Hotspot.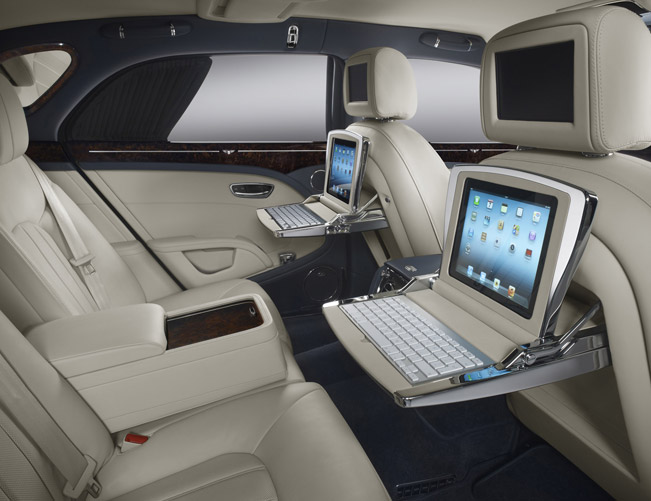 The rear cabin's privacy can be attained through the touch of a button, with new privacy curtains offered as a Crewe-fitted option. Speaking about the cabin, here Bentley has offered two coor options: either Black or Ivory.
In addition, the Entertainment Specification is further enhanced with twin, eight inch LCD headrest screens, incorporating a 20 GB hard drive and DVD player, played through a 'Naim for Bentley' premium audio system, while two sets of Bluetooth headphones and a remote control.
In terms of exterior, there are three new additions to the palette: Dark Cashmere, Portofino and Damson. Dark Cashmere is a warm grey color, while Portofino is a new take on Pale Sapphire. The Damson is a rich color with subtle sparkle of rare purple diamonds.
What is more is that there are also three additional hide colors: Damson, Saffron and Brunel, which all complement the luxurious stance that the main colors deliver.
As an option, there is offered a range of bespoke Mulsanne luggage pieces which were hand made by the renowned Italian luggage specialists Schedoni. The full package comprises of six pieces, two large cases, two small cases and two foldable garment bags. All six pieces here include monogram Bentley lining and embossed Bentley logos on the main panels.
Video Source: YouTube
Source: Bentley