Bentley Mulsanne Mulliner Driving Specification
You know the Bentley Mulsanne, right? It has been the flagship Bentley for quite a while and now we have a fresh new version. It's called the Mulliner Driving Specification and is here to keep the things afloat. Well... it will be here actually: the debut is set for the 82nd Geneva Motor Show.
Highlighting the spec, are four 21-inch, light aluminum alloy wheels bolted in place with titanium fasteners. The overall finish on them comes in two forms: painted or polished. Together with the 265/40 ZR21 tires, the wheels grant the Bentley an agile and dynamic stance on the road.
There are also other smallish design touches such as the wing vents that take the shape of the emblematic "Flying B" symbol. There's also an inscription on them that reads "Mulliner". A whole new perforation process has been developed to make the inside of the car look like a diamond patterned sofa. The gear lever holds baseball-like lather stitches on its side. There's a grippy, 'coined' surface on the metal interior door handles while the pedals are made of drilled alloy only. While the upper surface of the door sills is busy reading "Mulsanne", their sides are available to display Mulliner treadplate plaques that seal this particular Bentley as a Driving Specification.
In spite of the old-school air vent pull knobs, there is a 'sport' setting on the rotary switch mounted next to the gearshift selector. It is a tiny reminder that this is not a 19th glassware cabinet but a state of the art performance saloon. We have a 505 bhp, 6.75 liter V8 monstrosity under the hood which is good for a 5.1 second 60mph sprint run and a top speed of 184 mph. That power needs management and that's why we also have a Drive Dynamics Control system which operates the suspension and steering. Now with a 'sport' mode on, the Mulsanne can take bends at high-speeds without breaking your back.
Partly irrelevant to the Mulliner Driving Spec. will be the addition of bottle cooler and sunroof options within the whole Mulsanne line. The cooler is integrated into the back seats and has space for two full-sized champagne bottles in upright position. It also comes with three hand-blown champagne flutes made exclusively for Bentley by the designer David Redman. All can be cleverly concealed when not in use.
Should you ever feel claustrophobic in a Mulsanne, which is unlikely, you can opt for the tilt-opening, tinted glass sunroof. It floods the cabin with light and gives an extra dimension of space, providing additional ventilation while avoiding the security risk of open windows.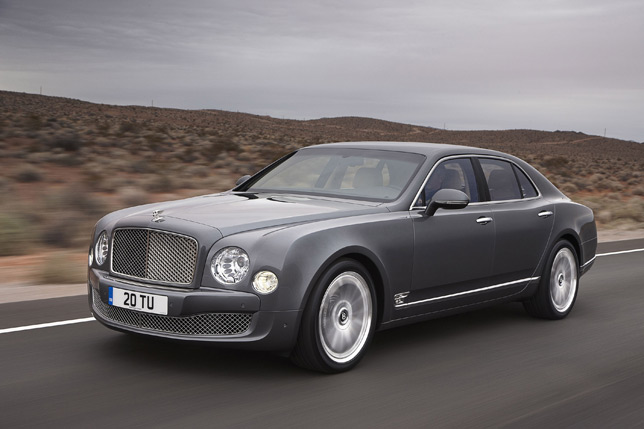 Source: Bentley