BMW 1 Series M Coupe Safety Car
BMW has announced a specially created 1 Series M Safety Car for MotoGP. The auto-maker is also offering other high-performance vehicles to be used by the Dorna Sports management team and IRTA officials.
On 19th March, BMW 1 Series M Coupe will for the first time be deployed as the official Safety Car for the MotoGP events.
BMW 1 Series M Coupe is powered by a twin-turbo 3.0 liter inline six-cylinder with 340PS (250 kW) and 500Nm (369 lb-ft) of torque. It is connected to a 6-speed manual transmission.
The BMW Safety Car features carbon fibre-reinforced bonnet featuring additional large air vents, as well as polycarbonate side and rear windows. There are also a lightweight titanium race exhaust system, an adjustable rear wing, new front apron and an additional splitter integrated on the underside of the apron.
The interior includes a rollcage, absence of rear seats, two racing bucket seats with 6-point safety belts, an M steering wheel in alcantara and a fire extinguisher.
The suspension is also improved - an adjustable race track set-up that includes a sports-tuned chassis in which the dampers are independently adjustable for bump and rebound.
The car stands on 19" wheels with tires in dimensions 255/35 at the front and 285/30 at the rear. The braking system of the BMW 1 Series M Coupe, already designed for extremely high demands, is replaced in the Safety Car with a 6-piston fixed-calliper racing brake system.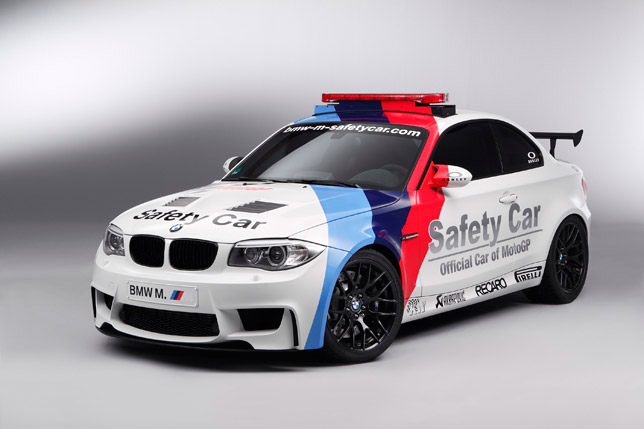 source: BMW