Iconic 1957 BMW 507 makes exclusive comeback at Goodwood

1957 BMW 507 sports car, which is undoubtedly one of the most exclusive rarities and collectibles out there, is going to open this year's Goodwood Festival of Speed. The founder of the event, Lord March, will drive the one-off model up the 1.16-mile hillclimb course on June 23. As a matter of fact, BMW is Honoured Marque at Goodwood this year making it a central theme of the festival. Of course, this has to do with German manufacturer's centenary.
Commenting on the special participation of the brand, Lord March said that as a founder he's delighted to celebrate the centenary of the Bavarian brand in this magnificent way. To make this even more exclusive, there will be a central feature sculpture outside Goodwood House, which will too mark BMW's sporting success.
SEE ALSO: BMW M2 making it to 410HP and 630 Nm thanks to EVOX upgrade
Being one of the rarest and most beautiful BMWs out there, the 507 has actually a very tough history. The model from 1957 is a result of a revision of the 507 flagship, which eventually ended up in producing only 252 units and contributing for heavy losses for BMW.
The changes that were made aimed at bringing more rear cabin space, namely the valence was reduced and the size of the fuel tank shrank from 120 to 65 liters. However, a beneficial change was the increase of output of the 3.2-litre V8-engine, which became 150 hp from 140 hp. The torque was 222 Newton meters.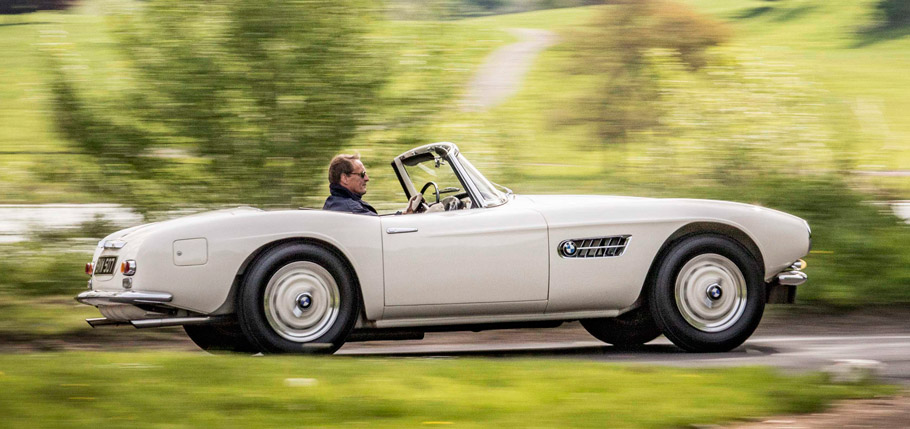 Other minor cosmetic changes were introduced, but unfortunately the production of the model lasted only two years, resulting in 252 units and a lot of money lost for BMW. Exported in the United States, the car seemed to be too expensive for regular customers. So it is no surprise that Hollywood starts like Frank Sinatra and Elvis Presley were the chosen ones driving it.
Another interesting fact about this car is that when it was enetering the market in 1957 it was priced at around $8,988. Given the rarity of the model means that the example Lord March will drive up the hill is estimated to be worth around more than $2 million.
1957 BMW 507 and Lord March will enter the annual event of Goodwood, running up the 1.16-mile hillclimb at the start of the Moving Motor Show, at 9am on Thursday, June 23. So make sure to be there if you are in the vicinity.
Source: Goodwood Festival of Speed