BMW M2 Coupe Gets Equipped with M Performance Parts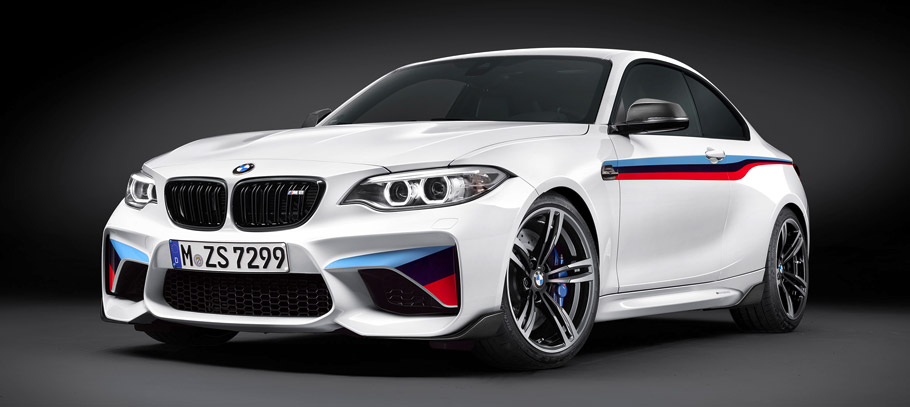 BMW M2 Coupe is finally getting its pack of M Performance Parts which enhance its aerodynamics, engine, cockpit and suspension. The new M2 is one of the top performance cars in its segment. In addition, its typical and charming extrovert design further underscores car's dynamic character. Now, BMW is offering outstanding M Performance Parts for the M2 Coupe from March this year. Here are the details:
Aerodynamic Parts
The aero components contribute for an improved appearance and driving response. They are made of carbon-reinforced plastic (CFRP) and feature front and side sill attachments, rear diffuser and mirror caps. Except for the mirror caps, they optimize the airflow around the vehicle, for example, which improves handling and driving performance. The M Performance radiator grille comes in carbon too and includes integrated BMW M logo in the M colors (red, blue and light blue).
SEE ALSO: BMW to Produce Limited Series of i8 Protonic Red Edition 
Options for Engine, Suspension and Brakes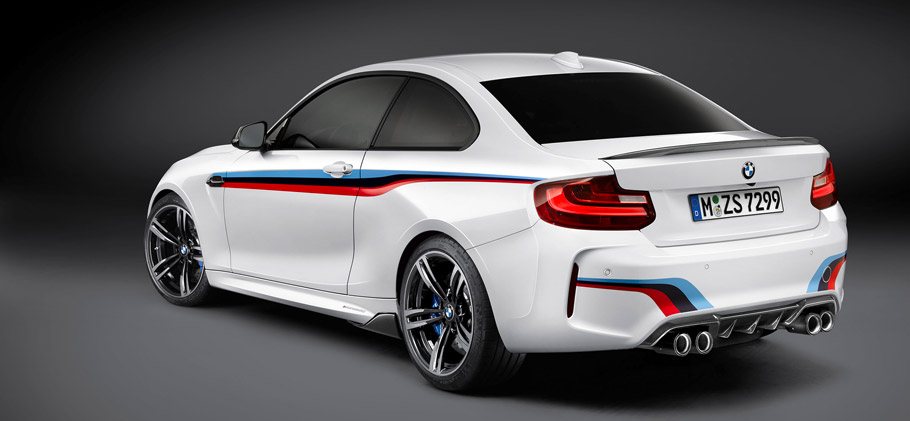 Better sound is delivered via the M Performance flap silencer system. It features two operating modes Sport and Track can be set by Bluetooth. The flap exhaust system further enhances the car visually due to its high-gloss silencer unit including deep-embossed M Performance logo, tailpipes with a diameter of 80 millimetres and perforated inner pipe. Another option is carbon fibre tailpipe trim available for the M Performance exhaust system with a diameter of 93 millimetres.
M2 Coupé can be also fitted with M Performance coil-spring suspension, which reduces ground clearance by 5 millimetres. There is a coil-spring technology which can be used to lower the vehicle by an additional 20 millimetres. The shock absorbers can be also adjusted to 16 levels. This makes it possible for the driver to make their own suspension set-up according to personal preference.
M Performance sports brake pads with high resistance to thermal stress can stand extreme use. They also offer improved and more direct response than the standard ones.
Interior Options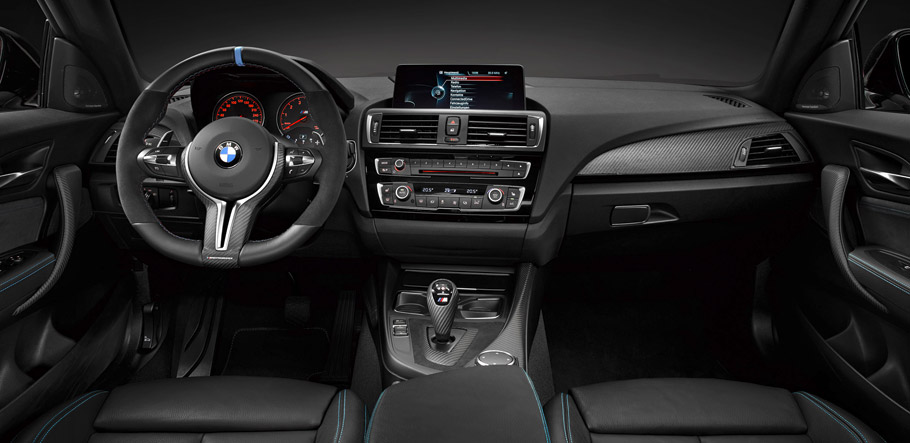 The interior options for the M2 Coupe are all inspired by motorsport racing. The M Performance Parts cabin include LED door sill cover strips for the driver and passenger side, branded floor mats, stainless steel pedal covers, steering wheel with grip areas covered in Alcantara and three-colour M seam and the optional open-pore carbon fibre trim element.
There is an option of a steering wheel with race display and carbon fibre trim and integrated function display in the upper rim. In addition to the race display there is also a gear shift indicator: two bi-colour LED light strips on the right and left that run towards each other.
At last, the range of M Performance Parts for the M2 Coupe is rounded out with M Performance Interior Kit Carbon. It includes parts for the twin-clutch transmission gear selector level, centre console and handbrake handle and the M Performance interior trim finishers with their blend of Alcantara and carbon fibre.
Source: BMW